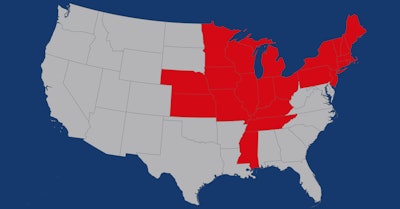 Update – Tuesday, Jan. 29, 8 a.m. Central: The Pennsylvania Department of Transportation has issued a truck restriction on a number of interstates through the state.
Beginning at 6 a.m. Tuesday, no empty or double trailers, RV's or trailers being towed by non-commercial vehicles were allowed on I-380 from I-81 to I-80; I-78 from I-81 to NJ State Line; I-80 from I-180 to NJ State Line; I-81 from I-83 to NY State Line; I-84 from I-81 to NY State Line; I-476 (PA Turnpike, Northeast Extension) from I-78 to Exit 131 (Clarks Summit).
According to The Weather Channel, three people have been killed as a result of the storm so far – two in separate crashes along I-80 in Iowa, and one by a snow plow in Illinois.
The coldest weather in years will put millions of people and animals throughout the midwestern United States at risk for hypothermia and frostbite to occur in minutes during the final days of January: https://t.co/SExvIDDjJB pic.twitter.com/mfgVZcsScB

— AccuWeather (@breakingweather) January 28, 2019
The Federal Motor Carrier Safety Administration has expanded its regional emergency declaration from Jan. 18 to now include 23 states ahead of a winter storm expected to impact much of the Eastern U.S. this week.
Truck drivers hauling heating fuels, including propane, natural gas, and heating oil, and other fuel products, including gasoline, into the affected states providing necessary relief will be exempt from hours of service regulations through Feb. 2, or until the end of the emergency, whichever is less.
States included in the declaration are: Connecticut, Illinois, Indiana, Iowa, Kansas, Kentucky, Maine, Massachusetts, Michigan, Minnesota, Missouri, Mississippi, Nebraska, New Hampshire, New Jersey, New York, Ohio, Pennsylvania, Rhode Island, Tennessee, Vermont and Wisconsin.
Additionally, Alabama Gov. Kay Ivey issued a declaration of emergency Monday afternoon in anticipation of the incoming winter storm, prompting an hours suspension throughout the state for truckers providing direct emergency relief to affected areas.
The Indiana Toll Road issued a travel ban from noon today through noon Tuesday. Prohibited are triple tractor-trailers, long-doubles (high-profile only), high-profile oversize permit loads.
Snow is expected to spread through the Ohio Valley and into the Northeast Monday night and Tuesday, extending as far south as Alabama, Mississippi and Georgia. Travel conditions are expected to deteriorate throughout the day Tuesday in the affected areas.
In addition to the precipitation, extreme cold is another concern, according to the Weather Channel. By mid-week, cities in the Midwest, such as Minneapolis, Des Moines, Chicago and Milwaukee, could see lows in the minus teens and minus 20s. Sub-zero lows could also extend through the Ohio Valley and into the Northeast by late-week.
Though it will be brutally cold this week in the Midwest and daily record lows are likely to be set, only a few cities will threaten all-time record lows: https://t.co/dFQGwHIoS8 pic.twitter.com/Y78BcC08Eh

— The Weather Channel (@weatherchannel) January 28, 2019