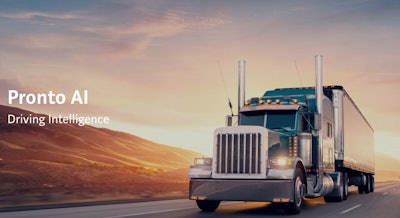 Anthony Levandowski doesn't give up easily.
At UC Berkeley roughly 15 years ago he led a group of fellow engineering students to build a self-driving motorcycle. Levandowski, who developed the bike's software, often worked through the night and eventually led his team to conquer what appeared to be the impossible.
Ghostrider, as it was called, made big waves among industry heavyweights in two DARPA Grand Challenges and even earned a coveted spot at the Smithsonian. Watching old test videos of that motorcycle moving along and steering itself is still impressive today.
Ghostrider opened doors for Levandowski. He went on to work at Google where he continued to develop self-driving technology. In his spare time, he founded companies that supported autonomous tech which Google acquired.
Eventually his vision for self-driving commercial vehicles would see him leaving Google and founding self-driving truck company Otto. Not long after, Otto was acquired by Uber where Levandowski continued the push for greater self-driving feats in Class 8 commercial trucks. Otto made headlines in October of 2016 for delivering cases of Budweiser in a self-driving tractor-trailer that traveled roughly 132 miles from Ft. Collins, Colo. to Colorado Springs.
But then Levandowski hit a wall. In February of 2017 allegations of intellectual property theft came up against him in a lawsuit filed by his former employer Waymo (a subsidiary of Google parent company Alphabet). The case was settled just a few days into the trial early last year.
Negative press and court proceedings (a federal judge ordered him to stop working with lidar prior to the settlement) proved especially challenging for Levandowski and his family. However, he wasn't ready to give up on a self-driving truck.
Levandowski went back to the drawing board and this time led a team to develop an autonomous vehicle system that relies primarily on cameras and no lidar. Eager and confident, Levandowski personally tested his latest self-driving technology in a Toyota Prius from San Francisco to Manhattan, New York. Though it took a few attempts, the modified hybrid, according to Levandowski, made the roughly 3,100-mile journey without his help.
Encouraged by the success of his self-driving test (unofficially the world's longest), Levandowski and business partner Ognen Stojanovski, a Stanford research scholar, corporate attorney and former DARPA teammate, announced the start of Pronto in December.
The company has developed a Level II self-driving system for Class 8 tractors that offers braking, acceleration and steering abilities. Similar to a suite of autonomous features available on passenger cars, the $5,000 CoPilot is designed to making truck driving safer and more efficient. We recently talked with Levandowski and Stojanovski about their new company and the goals they have for self-driving technology.
Part 1 of our discussion below focuses on challenges that the self-driving Prius faced during its cross-country trip; the ability of autonomous systems to distinguish between people and inanimate objects; the reception of self-driving systems among fleets; moral ambiguity surrounding accidents involving AI systems; the most challenging conditions for autonomous tech; encouraging signs from tensor hardware; and the perils of making big promises.
Tom Quimby is the editor for Hard Working Trucks, a sister publication of CCJ.