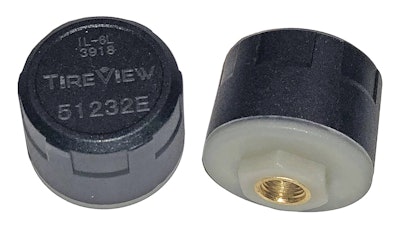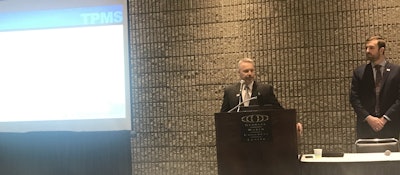 Pressure Systems International (PSI), at the Technology and Maintenance Council's Annual Meeting & Transportation Technology Exhibition in Atlanta Sunday, debuted its new tire pressure monitoring platform.
The company will focus its new telematic-enabled product – TireView – on tractors and straight trucks, trailers with telematics and work trucks.
Jim Sharkey, vice president of sales and marketing, says the TireView platform uses 10 cap sensors, which are protected behind a bracket away from theft and damage.
Adding TPMS to the PSI product line, Sharkey says, represents a key expansion of the company's portfolio in order to provide a "bumper-to-bumper" solution for tire management.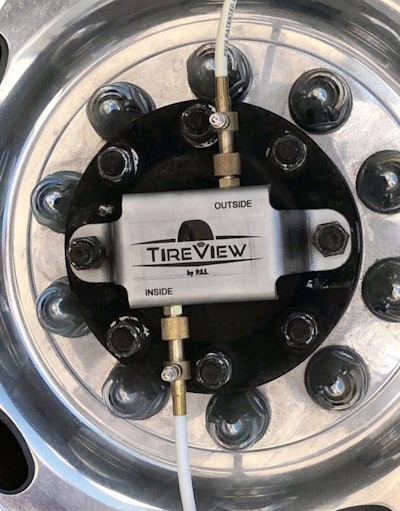 TireView offers a high degree of flexibility, being able to be run in a closed on-board system or connected to telematics solutions for enhanced fleet management.
TireView offers customizable alerts, monochrome or color displays as well as internal and cap sensor options. When used without ATIS, such as on drive axles, TireView can be used with a "Flow Thru Kit" that provides simple solutions to sensor management challenges experienced by many fleets.
System alerts can easily be tailored and feature real-time reporting. Battery life is up to 5 years with high data reliability.
Jonathan Gravell, vice president of business development, says the sensors can be paired with a unique six-digit ID, adding TireView allows users to move sensors that are already paired into different tire locations. Sensors stay with the axle in its wheel position, not the tire.
Gravell says the platform seeks to provide users with actionable data.