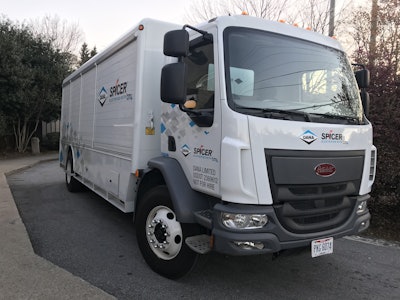 With several commercial vans and an increasing number of straight trucks already headed to market, the pickup and delivery segment is doing its part to usher electrification into commercial trucking.
The logistics here are pretty simple and duty cycles perfectly mitigate many electrified concerns. The range on most electric commercial vehicles is under 200 miles, which is well below the daily needs of an urban delivery driver. Since many PU&D fleets cube out before they gross out, added weight from the batteries is no big deal, and they're all going to return to base making the lack of an expansive charging infrastructure a non-issue.
If you designed the perfect use-case for an electric truck with currently available technology, it just might be a medium duty beverage application running routes in an urban area – kind of like the Peterbilt Model 220, outfitted with Spicer's central motor direct drive driveline, that I took for a spin around Atlanta last week. Dana's electric driveline is designed to be a drop-in turnkey solution. Mine just happened to be dropped into a Pete cabover.
When you tilt the cab forward, the battery management cradle rests where a diesel engine would be normally. Among the last remnants of that engine is the radiator, which now cools the motor and inverter – two components that get hot as electricity flows through them.
Anchored by a TM4 Sumo MD HV2600-6P high-torque/low-speed reluctance-assisted permanent magnet motor and CO200 inverter, Spicer's electric system pumps out 155 kilowatts (kW) of continuous power and 265 kW at-peak. That's electric jargon for more than 200 hp, with 355 peak horsepower available, and a little more than 2000 lb.-ft. of torque. The rest of the driveline is pretty conventional, featuring an SPL 100 driveshaft and Spicer S130 single reduction medium-duty single drive axle – both of which would commonly be found in a traditional spec for this truck.
The star of the electrical show is Dana's TM4 motor, which is one the most validated commercial vehicle electric drive systems available. Dana Senior Manager of Commercial Vehicle Product Planning Harry Trost says more than 12,000 vehicles, mostly busses in China, have been equipped with the motor and have logged more than 360 million miles.
Electric Truck up-and-comer Lion Electric Co., will include the TM4 Sumo HD direct-drive motor, BCI20 charger and inverter, and the Neuro vehicle controller in its Lion8 Class 8 truck along with Spicer DS404 drive axles and SPL 250 driveshafts.
With a top speed of around 70 mph, you won't win many races with the Dana solution, but I don't think I cracked 35 mph over the duration of my test. A top end of 70 mph is plenty to get from the distribution center down to the maddening traffic of Atlanta's congested urban jungle – or New York, Chicago, Los Angeles, or wherever else.
Depending on duty cycle and the number of battery packs you spec, Dana's system features of range of between 80 and 120 miles. A 10 kw charger can charge depleted packs in about nine hours. A 20 kw charger would cut that time in half. If you're in a hurry, Trost says a DC fast charger is good for a fill-up in under an hour but comes at the expense of battery life.
The truck features a regenerative brake that helps extend the truck's range by pumping free energy back into its military-grade batteries. I started my drive with a range of 158 miles and parked with 163, so I ended my trip with more mileage capability than I started with thanks to rolling hills, numerous stoplights and scores of jaywalking pedestrians. If you could capture energy from the number of limbs I smacked hanging off trees that should have been pruned by the city, I would have enough range to drive that truck to the Arctic Circle. Seriously, Atlanta. Piedmont Park Area. Get on that.
The regen brake also helps slow the truck but it will not hold it on a grade. Trost says some Chinese bus applications have seen service brake maintenance intervals extend from a few times per year to once every few years, driven largely by the slowing power coming from the regenerative brake.
A touchscreen information display – basically a tablet mounted on the dash – lets the driver monitor the truck's state-of-charge and estimated range. You can switch between a variety of information, like energy consumption and average speed, based on what you're looking for.
Trost says my test unit, integrated by commercial electric drivetrain developer Nordresa, took about 19 weeks to build and upfit with a Hackney beverage body, adding that time could easily be shortened as adoptions climb. And climb they should.
In a heavily populated setting – like frustratingly packed downtown Atlanta – the system's capabilities and potential seem limitless. Throttle response is excellent. The truck leaps off the line. The Model 220's turning radius is exceptional. This setup is a remarkable traffic fighter and considering the potential fuel and maintenance savings at-hand, I think urban trucking electrification makes a little more sense everyday.