At the Technology and Maintenance Council's Annual Meeting & Transportation Technology Exhibition in Atlanta Sunday, Dana announced the release of a new center bearing and a new limited-slip differential.
Immediately available on standard Spicer SPL driveshafts and heavy-duty Spicer 10 Series driveshafts, Dana's Director of Global Product Planning for Commercial Vehicles Steve Slesinski says the new center bearing addresses noise, vibration, and harshness levels from higher drivetrain torque stresses and vibration frequencies created by engine downspeeding and chassis light-weighting.
Its patented design helps to ensure proper installation and alignment throughout the life of the vehicle, delivering a more consistent ride while promoting drivetrain longevity. The new design also provides a more user- friendly installation, further reducing the possibility of future alignment-based issues. The universal design of the Dura-Tune allows for the replacement of current standard SPL and heavy-duty Spicer 10 Series center bearing assemblies – as well as competitive products – and is available for retrofitting or as a replacement part through Dana's aftermarket.
"It has some flexibility in that you can install it at plus or minus 10 degree angles," Slesinski says.
Also Sunday, Dana intro'd the new Spicer Trac-Lok limited-slip differential for Spicer S140 single drive axles. Available in June for medium-duty work truck applications, the differential provides improved traction during wheel-slip events and utilizes a reliable five-pinion design to serve Class 6 applications without requiring switches, wires, sensors, air hoses or manual input from the driver.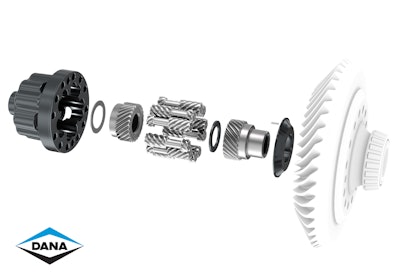 During a slip event, Slesinski says Trac-Lok automatically sends approximately three times more torque to the high-traction wheel-end. The Spicer Trac-Lok returns to its normal state wheel-end differentiation as conditions change in order to deliver maximum vehicle handling.
The Trac-Lok device is lightweight and fully interchangeable with a Dana standard S140 axle differential. Retrofittable on Spicer S140 single drive axle models, the Trac-Lok will be available on Spicer S140 with gross axle weight ratings from 17,000 pounds up to 21,000 pounds. Simplifying installation and use, Trac-Lok does not require wiring, pneumatic connections, special lubricants, or additional friction modifiers.