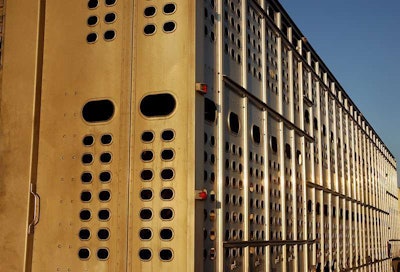 A block of 63 lawmakers in the U.S. House has penned a letter to transportation appropriation leaders asking them to allow drivers hauling livestock and bees to remain exempt from compliance with the federal electronic logging device mandate through the 2020 fiscal year — Sept. 30, 2020.
Livestock haulers have been exempt from the mandate since its onset in December 2017, with ag groups like the National Cattlemen's Beef Association, American Farm Bureau, the Livestock Marketing Association and some beekeepers groups lobbying strongly for truckers carrying livestock and bees to continue to use paper logs to record duty status.
The groups argue the unique circumstances of livestock haulers and the need for animals to be stationed in a place with access to food and water as the chief reasons for the exemption.
"Livestock haulers across the country have the difficult task of ensuring motorist safety while also tending to the health and welfare of animals transported," the House members write in their letter to appropriations leaders. "A one-year delay on ELD implementation would allow livestock haulers time to adapt and address concerns as the existing hours of service rules are reconsidered."
Ag groups have also petitioned FMCSA to create hours of service rules specifically for livestock haulers. They've also pressed Congress to require special hours of service regs for livestock haulers. FMCSA has yet to rule on a petition filed in February, and Congress has also not acted to require overhauled hours regs for livestockers.
However, livestock groups have successfully scored continued exemptions for livestock and bee haulers via annual appropriations bills.
Neither the House or Senate have proposed transportation funding bills for the 2020 fiscal year yet.