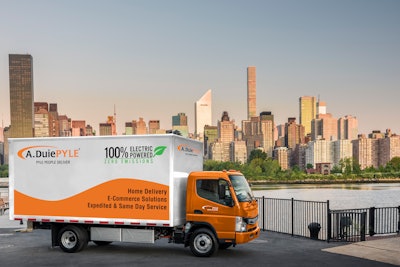 A. Duie Pyle (Pyle), a provider of asset and non-asset based transportation and supply chain solutions in the Northeast, has implemented two electric FUSO eCanter trucks at its Bronx service center to service the surrounding New York metro and Long Island areas.
The FUSO eCanter is a fully electric-powered medium-duty truck. Pyle is one of the first customers in the United States operating the limited series truck with a modular HV battery pack and permanent synchronous e-motor.
The eCanter delivers an output of 185 kW. The truck is silent and emission-free, making it ideal for urban delivery and green application needs, the company says.
"We are proud to be partnering with A. Duie Pyle to employ the first few of the FUSO eCanter trucks that are in operation here in the U.S. and other world markets," said Bill Lyons, vice president, sales operations at Mitsubishi Fuso Truck of America, Inc. "We are aware of Pyle's significant contribution to sustainable practices, and value partnering with companies who do so. We are excited to see the positive impact these trucks have on not only Pyle's fleet, but our environment as well."
Through its ECO (Environmentally Conscious Operation) Program, Pyle has incorporated green and sustainable practices throughout its fleet, facilities and operations. Some key accomplishments include a 1 megawatt, 100 percent solar powered warehouse in Parkesburg, PA, paperless dock management and handheld systems, and the transition to electric forklifts which save approximately 24,000 pounds of carbon per unit.
"Sustainability efforts are a key component to Pyle's continued success as an organization," said John Luciani, chief operating officer of LTL Services at A. Duie Pyle. "Having successfully implemented sustainable practices both small and large across our company, adding electric trucks to our fleet was a much-anticipated goal for the future. We are excited to introduce this groundbreaking technology into our operations."