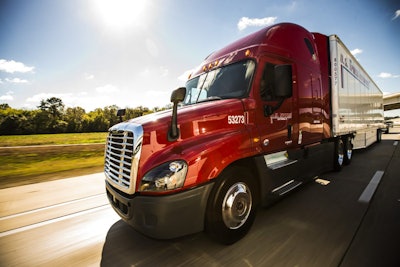 A federal court in California has dismissed a lawsuit brought by a group of drivers against U.S. Xpress concerning the state's meal and rest break laws, signaling a potential tide change in the lingering legal issue in the state.
Precedent set by the U.S. 9th Circuit Court of Appeals in the high-profile 2014 case of Dilts v. Penske had tilted court rulings against carriers in cases like the U.S. Xpress case over the past five years. Carriers of all sizes, including those with as few as 15 trucks, had been sued by drivers seeking back payment for not being provided the state-required breaks. Large mega-carriers, such as J.B. Hunt, Swift and Walmart's private fleet, had also been targeted by such lawsuits, which often led to pricey settlements with drivers.
However, the U.S. DOT's Federal Motor Carrier Safety Administration in December 2018 issued a decision rebuking the 2014 Dilts ruling and exempted carriers from having to provide the California-required meal and rest breaks. FMCSA said the California meal and rest break rules conflict with federal hours of service regulations, and that federal hours regs pre-empt the state's labor code. California law requires employers to provide a 30-minute meal break every five hours of work and a paid 15-minute rest break for every four hours of work time.
In the case involving U.S. Xpress, U.S. District Judge George H. Wu on May 2 ruled to grant a motion by the fleet giant seeking to dismiss the lawsuit (Ayala v. U.S Xpress). The case is the first since FMCSA published its exemption in December to test the new legal environment surrounding California's meal and rest breaks as they pertain to trucking.
"We're extremely pleased with the decision," said attorney Jim Hanson of the Indianapolis-based firm Scopelitis, Garvin, Light, Hanson & Feary, who defended U.S. Xpress in the case. "It says that California meal and rest break rules cannot be enforced against motor carriers and their property-carrying commercial motor vehicle drivers who are operating in the state."
He says U.S. Xpress drivers operate in California "for very small amounts of time," and that the driver plaintiffs in the case wanted to apply California labor laws despite the fact they spend little time operating there.
However, Hanson cautioned carriers to remain compliant with the California laws pending challenges to FMCSA's December decision to exempt carriers from the state's regs. He said a decision in those cases, which have been brought by the Teamsters Union and the California Labor Commission, could take about two more years to resolve.
"Don't change what you're doing if you're already allowing meal and rest breaks in accordance with California rules. Continue to comply with those rules until it is finally determined at the 9th Circuit whether FMCSA's decision will be upheld," he said.
Hanson says he foresees the 9th Circuit upholding FMCSA's decision. "I think FMCSA made the right decision to say California rules were incompatible with DOT hours of service regulations. Their analysis was spot on, and they were correct in the way they analyzed it, and I think the 9th Circuit will agree with their analysis."