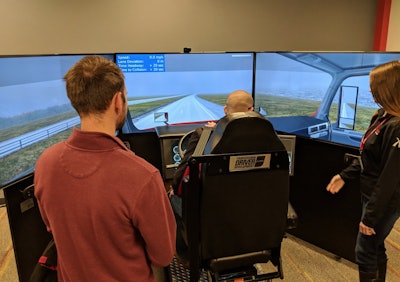 U.S. Xpress (No. 16 on the CCJ Top 250) has launched a new driver training program that uses a technology-driven approach and a driving simulator for training.
The new program, called the Professional Driver Development program, was launched in conjunction with the opening of a redesigned driver training center in Tunnel Hill, Georgia.
The new training program, which was created with input from truck drivers, provides opportunities for continuous learning for both new and experienced drivers. It includes in-person development sessions; a hands-on commercial vehicle lab where drivers inspect and identify problems on a truck; a competency-aligned simulator program; a driving range where drivers can practice straight line, alley dock, serpentine, coupling and uncoupling maneuvers; more than 150 training videos; as well as ELD practice and device training.
"We believe our Professional Driver Development program will ensure long-term success for our drivers," said Amanda Thompson, Senior Vice President of Human Resources.
Drivers can complete training assignments and refresher courses on their own time and at their own pace with the ability to come back and practice any skills they feel necessary.
We officially unveiled our new #Professional #Driver Development program today, and we're giving you a first look at our @VirageSim Driving Simulator! #trucking #transportation #truckdrivers #truckers $USX pic.twitter.com/ViGCkz5K0j

— U.S. Xpress (@usxpress) February 19, 2019