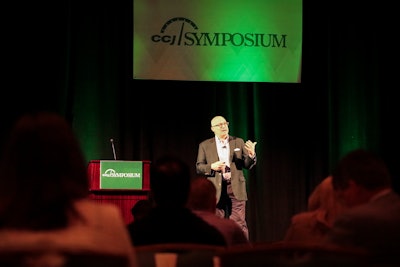 Motor carriers may not be having a record year like they did in 2018, but trucking economist Donald Broughton gave attendees of the CCJ Spring Symposium many reasons to be optimistic on Tuesday, May 7 in Birmingham, Ala.
He pointed out that traditional economic indicators, such as GDP, are not very reliable for the health of the trucking industry. GDP is calculated using some methods that are antiquated, he contends, such as counting increases in inventories as a positive contribution and decreases as a negative.
Decreases in inventories, he argued, are a better indicator of economic activity in the trucking industry since it means more freight is moving through the supply chain.
Broughton, principal and managing partner of Broughton Capital based in St. Louis, Mo., was bullish on the future of energy prices with the United States now the world's leading oil producer. Advances in fracking technology, pioneered in the U.S., have made this possible.
"We are now larger than Saudi Arabia by a factor of Kuwait," he said, giving credit to economic incentives that oil companies with U.S. operations have to invest in drilling because the government does not control the mineral rights of properties, which is not the case in other countries such as Mexico.
The largest, untapped oil shale and natural gas reserves in the world are in China. During the next five to 15 years he predicts the U.S. will either do fracking for the Chinese, license the technology to them, or perhaps the Chinese government will steal it.
In any event, he predicted the cost of BTUs for oil and natural gas will be deflationary because of American fracking technology.
"Globally we've already put a lid on the price of oil," he said. "For the foreseeable future, energy is going to be inexpensive."
Deflationary forces
Over the last 30 years he said the U.S. has seen a steady decline in the cost of inflation. The Federal Reserve has been effective at managing inflation, but technology has played a role by forcing markets to be more efficient by eliminating the middleman.
Nearly all companies in business to consumer (B2C) industries from banking to music, travel and retail have been "disintermediated" with technology. Business-to-business marketplaces, such as transportation and logistics, still use middlemen despite the best efforts of technology companies.
Broughton said that buying and selling activities in B2B industries are more sophisticated than in B2C, and technology has not yet been able to account for all of the complexities to cause disruption.
He brushed aside fears of a recession in the near future, pointing to strong industrial and technology sectors in the U.S. that led the country out of recession in 2009 and have continued to propel the economy.
Fracking and drilling, not consumer spending, was primarily responsible for the economic recovery and lower energy prices have led the resurgence of manufacturing in the U.S., which is the lowest cost producer of some products derived from oil such as plastics.
The U.S. is also the global leader of hardware and software companies. "We lead and dominate it globally in the technology age," he said.
The next wave of ELDs
In the trucking industry, perhaps no technology has had a greater impact on economic activity than electronic logging devices (ELDs), which have been mandatory since Dec. 2017.
"I'm pretty sure that most government regulation leads to less efficiency," he said, "but when the government regulation is for more technology to be forced, to be required, the technology produces more visibility, produces more efficiency, and highlights the bad shippers and receivers that take forever to load you and unload you."
The positives of the ELD rule could be upset by a December 2019 deadline that requires carriers to convert their grandfathered AOBRD devices to the ELD standard. He estimates that more than 50 percent of the class 8 population still needs to migrate.
Overall the industry was prepared for when the 2017 rule went into effect. That doesn't seem to be the case for the 2019 deadline. "Nobody is doing anything. Nobody realizes they have a problem. A calamity not anticipated can be a disaster, so we'll see," he said.
He ended his presentation with predictions for 2019 and 2020. The driver market will remain tight, but truckload rates will increase by a modest 1 to 3 percent after rising 8 to 12 percent in 2018. Consolidation in the industry will continue because capital is cheap and because efficiencies and technology allows it to happen, he said.
One of the recent events that concerns him is the talk of Chinese tariffs by the Trump administration.
"The biggest threat to our economic security is a trade war," he concluded. "A tariff is a tax. And if this goes through and if (Trump) is not just bluffing and not just negotiating, he has just put a 25 percent tax on all those goods that we are consuming. And that has bad economic ramifications for us and the Chinese."