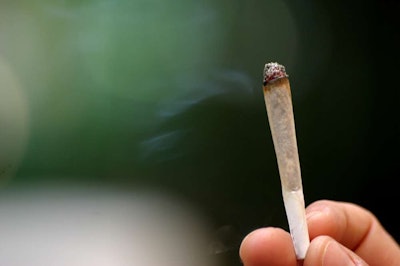 Despite a changing landscape nationally regarding the legality of marijuana use and questions regarding employment-based drug tests, there's little that's changed for the trucking industry. Truck drivers must still test negative for use of marijuana during pre-employment screenings, random drug tests and post-accident tests, and fleets must maintain a drug testing program.
Those were the key takeaways from an hour-long webinar held last week by the Truckload Carriers Association, which featured attorney Adam Dolan, a partner at the firm Goldberg Segalla; Dr. Todd Simo, chief medical officer and vice president of business development for HireRight; and Deputy Chief Mark Savage of the Colorado State Patrol.
"Laws regarding marijuana have changed drastically in the last five to six years," said Dolan, noting that only five U.S. states maintain an outright prohibition on marijuana possession and use — Alabama, Idaho, Kansas, Nebraska and South Dakota. The rest of the country has loosened marijuana laws to allow for at least limited access on a medical basis, if not broader legalization.
However, cannabis remains classified as a Schedule I drug at the federal level, and the U.S. DOT maintains rigid enforcement of its policies regarding marijuana. Failing a drug test for marijuana "is automatically disqualifying," said Simo. "Period. No caveats."
Adding to that point: "The DOT does not authorize medical marijuana under state law to be a valid explanation for an employee's positive drug test," said Dolan. Even as the U.S. Department of Justice changes its stance on enforcement, that has no bearing on the DOT's drug testing protocol, he says.
The number of marijuana-positive drug tests at large (not just for CDL holders) have increased in recent years, said Simo, and some have sought to blame use of products containing CBD (a hemp- and marijuana-derived compound used for medical treatment which doesn't contain the intoxicating compound THC) for the increase. The U.S. Food and Drug Administration last year changed federal regulations to allow wider use nationwide of CBD products. However, says Simo, "drug tests don't even look for CDB. That's a completely different testing profile. So CBD is not an explanation for a marijuana-positive result."
Savage's state, Colorado, was the first U.S. state to allow cannabis consumption beyond medical use, a change that took effect in 2014. However, the number of truck inspections resulting in violations for possession or use of alcohol and drugs remains minute, Savage said. In 2016, only 53 drug-related violations occurred in the state's roughly 30,000 inspections. That number dipped to 48 in 2017, but jumped to 60 last year. Those numbers are comparable to that of violations for alcohol possession and use. In 2016, in Colorado, there were 41 violations for alcohol possession or use. There were 57 in 2017 and 50 last year.
According to data presented by Savage, there were only 10 truck-involved crashes in 2018 that resulted in an injury or a fatality in which the truck driver tested positive for drug use. That number was up from eight crashes in 2017 and only three in 2016.