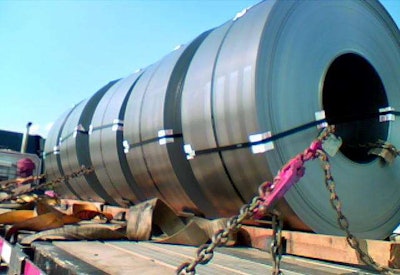 Note: This is the seventh in a multi-part series that have published in advance of this year's Commercial Vehicle Safety Alliance (CVSA) International Roadcheck blitz from June 4-6. Previous coverage can be found here.
If the number of violations don't get your attention the fines will.
Cargo and load securement infractions reached the third highest amount of overall out-of-service violations behind brake and tire/wheel issues during last year's International Roadcheck blitz.
Of the 16,003 OOS violations given during the June 2018 blitz, 13 percent, or 2,080, are related to load securement. (Brake issues dominate the list at 45 percent while tire and wheels follow in the number two spot at 19 percent.)
What are some of the biggest problems in load securement?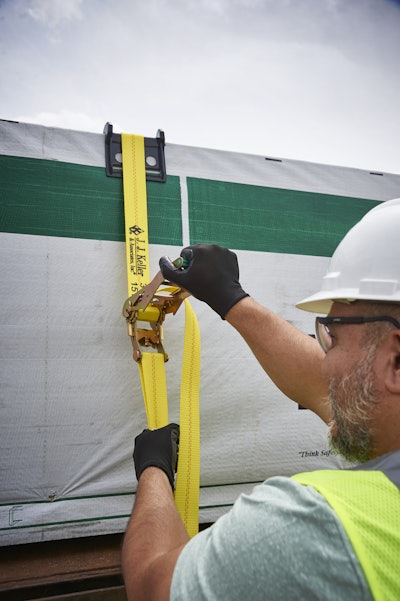 "I would say damaged securement systems or improper securement," says Florida Highway Patrol Trooper Bobby Simmons who's been inspecting trucks for the past ten years.
Damaged or improperly secured hazardous material loads, which are a particular concern given the threat to people and the environment, can rack up costly OOS violations that no fleet wants to face, and yet these citations continue to comprise a large part of overall cargo violations.
"Something I've noticed over the last five years is that the biggest amount of violations, the biggest percentage of cargo securement violations, consistently have to do with hazardous material securement," says Jeff Luick, northeast account executive at Kinedyne.
"It's usually in a closed van, but it's consistently above 25 percent of cargo securement violations and I haven't really seen it highlighted but it really jumps out at me," Luick continues. "That seems to be a big area of violations. It seems like it's something that's constantly popping up compared to the overall violations."
According to the U.S. Department of Transportation's Pipeline and Hazardous Materials Safety Administration (PHMSA), the agency responsible for regulating and ensuring the safe and secure movement of hazardous materials, the fines for hazmat violations are anything but cheap.
"Violations of any hazardous materials regulations including training may be subject to a civil penalty of up to $27,500 for each violation and, in appropriate cases, a criminal penalty of up to $500,000 and/or imprisonment of up to 5 years (see 49 CFR § 107.329 and § 107.333)," the agency notes on their website.
Seemingly benign hazmat paperwork violations also carry a hefty fine.
"Hazmat documentation is especially critical to have in order, as a single violation can result in a $78,000 fine," J.J. Keller writes in their free online Get Roadcheck Ready e-book. "The paperwork must have hazardous products listed correctly, and contain emergency response and contact information. When a driver hauling a load of placarded hazmat leaves the truck, the paperwork should be left on the driver's seat or put in the driver's door pouch, and should be within the driver's reach while operating the vehicle."
Preventive measures pay off
Avoiding hazmat and other cargo securement violations comes with knowing the rules, knowing which equipment to use and, most importantly, using it properly.
Even the strongest straps, chains and cables can fail if protective steps aren't taken while securing a load.
"The article may have an edge to it but they just throw a strap across it," Simmons explains. "And while it's going down the road the vibrations from (traveling) cut into the strap but the driver doesn't pay attention to it and just keeps running it."
Strap protectors, such a VeeBoard, will protect against abrasion and as Luick reminds, it's required.
"Regulations clearly state that if the strap, or chain or cable or whatever securement you're using is going to come into contact with an abrasive or sharp edge some type of protection needs to be used to prevent that from abrading or being cut or having a chain snap," explains Luick, a former truck driver with 20 years' experience. "That is probably the number one failure that I see. It's a fairly straight forward solution. It does take a little bit of time, but it's well worth the time putting a VeeBoard or a corner protector in place under the cargo securement to prevent a potentially catastrophic load issue."
At J.J. Keller, misuse of cargo securement devices remains one of their top concerns.
"Using a damaged device is in and of itself a violation, but it creates another issue in that the damaged device cannot be counted toward the overall securement, leading to there not being enough tiedowns in use in some cases (an out-of-service violation)," says Tom Bray, transportation consultant at J.J. Keller.
OSS cargo violations can also stem from "flatbed drivers (tractor trailer and straight truck) not using enough securement devices (tiedowns)," Bray explains. "The amount required is based on the weight and length of the cargo, and if there are cargo-specific requirements attached to that type of cargo (such as coils, roll paper, heavy equipment, dressed building supplies, etc.)."
After steps are taken to protect load securement equipment against abrasion and weak attachment points, the driver should periodically check the load while on the road to ensure that the load remains secure.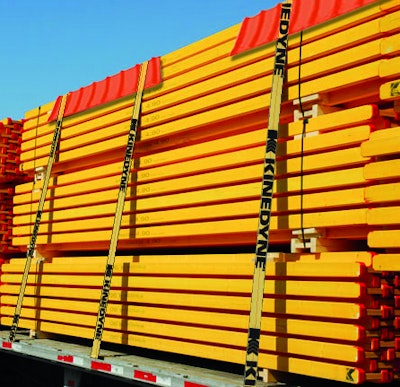 "As that cargo securement gets loose in the case of a coil for example. If the chain gets a little loose you're going to give that coil an opportunity to start moving and the inertia of such a dense, compact load will just snap that chain," Luick says. "I don't care if you've got a grade 80 ½-inch chain, once that coil gets moving, that chain's not going to hold it back. The same goes for webbing products. Once they start loosening up, you're giving that cargo that opportunity to gain inertia either from lateral movement or forward movement and you're going to have some kind of movement of that cargo."
While chains are synonymous with cargo securement, they're only as strong as their weakest link. Simmons says he's come across chains that have been dragged across the road and worn down from road rash. Repairs can't be taken lightly.
"There's certain approved things that can be done to repair a chain and some things that a lot of people do that are not improved which would be an out of service," Simmons warns.
Additional load securement tips from Jeff Luick at Kinedyne:
Know the characteristics and weight of the load you are transporting
Learn the general cargo securement length and weight regulations. (393:100)
Use properly marked and rated tiedowns. All reputable manufactures like Kinedyne stencil and tag the tie downs with the working load limit. Chains are stamped with a grade mark as a way to identify the rating of the chain.
Learn the formula for aggregating cargo control to match the weight and characteristics of the load you are transporting.
Additional load securement tips from Tom Bray at J.J. Keller:
Train drivers on cargo securement, and continue to train on it.
Have a standard way to securing the cargos normally carried by the fleet that is taught to all drivers.
Have a list of required securement devices the driver is to have in the vehicle at all times, and include checking these items in the maintenance inspection checklists.
Have a process for drivers to replace damaged or questionable securement devices.
Have a remedial training mechanism in place to retrain any driver that does not secure a load correctly, whether caught internally or during a roadside inspection.