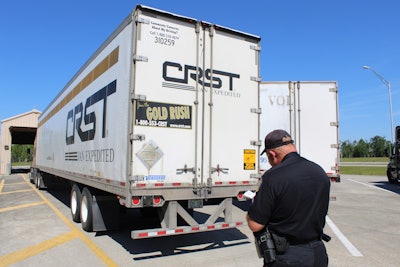 Note: This is the sixth in a multi-part series that will publish in advance of this year's Commercial Vehicle Safety Alliance (CVSA) International Roadcheck blitz from June 4-6. Previous coverage can be found here.
You don't want to be this guy.
His truck sits inside the inspection barn in Sneads, Fla. as a Florida Highway Patrol trooper looks up and sees that three of the marker lights on top of his rear trailer door are not working and one has a broken cover. The trooper takes notes and continues his Level 1 inspection.
While it's hard to say for sure, a pre-trip inspection may have caught those lighting problems and spared the violations.
"Lights should be checked daily for proper operation and any repairs to the lighting system should be done by a qualified technician," says Fleet Group director of operations Jim Lana.
Of the 13 out-of-service violation categories listed by the Commercial Vehicle Safety Alliance lighting garnered the fifth-most violations during last year's CVSA's annual International Roadcheck blitz. Light issues added up to 12 percent of 16,003 OOS violations given in the U.S. and Canada which led to 11,910 trucks being grounded and waiting on costly roadside repairs.
During last year's 3-day blitz, brake problems easily accounted for most OOS violations. However, throughout 2017 and 2018 in Florida, lighting issues pulled in the most OOS violations with 12,491 OOS lighting violations versus 11,199 OOS brake violations over that two-year period.
"We see a lot of marker lights, clearance lights, ID lights and turn signals out," explains FHP Trooper Bobby Simmons.
But it's not as bad as it used to be thanks to LED lights which have largely taken the place of more fragile incandescent bulbs. Simmons says that's especially been true for dump trucks where tailgate lights are subjected to more jarring and jostling thanks to repetitive dumping and subsequent tailgate slamming.
"You used to get lights out all of the time on a dump truck. But now that a lot of stuff has swapped over to LEDs, we're not getting as many. LED has come a long way," Simmons says.
Besides cutting down on CVSA violations, LED lights are more energy-efficient and last 50 times longer than incandescent bulbs, according to Kyle O'Dell, engineering manager at Optronics International.
"While a vehicle is stopped for a lighting problem, a more thorough CSA roadside inspection is almost inevitable," O'Dell says. "The failure of a $5 (incandescent) lamp can result in thousands of dollars in service fees, lost productivity, fines and points against the driver's and the fleet's CSA scores. Inadequate maintenance and the continued use of unreliable incandescent lamps are a recipe for disaster, or at least disappointment and lost profits."
Some fleets still shy away from LEDs given their higher upfront cost but Truck-Lite marketing specialist Andrew Liuzzo says the extra cost is well worth it.
"While LED lighting products tend to be higher-priced than incandescent or halogen options, they offer significant advantages such as durability due to the solid-state design and pose a far lesser threat to a vehicle's electrical system," Liuzzo explains. "As a result, failure rates are exponentially lower than incandescent or halogen alternatives, greatly reducing CSA violations."
Keeping the lights on
Since LEDs are less prone to failure than incandescent lights why are FHP troopers and other CVSA inspectors still finding plenty of lighting issues?
"Corrosion is most often the reason lights need repair," says Homer Hogg, director of technical service at TA/Petro. "Corrosion will eat away at any exposed wires or connections, which is why it's so important to keep connections and wire repairs concealed properly. Repairs should be completed with a connector containing solder, then the repair area should be covered with heat shrink. This method helps keep corrosion to a minimum."
To help minimize corrosion, use dielectric spray or grease at connecting points and do not probe wires for testing.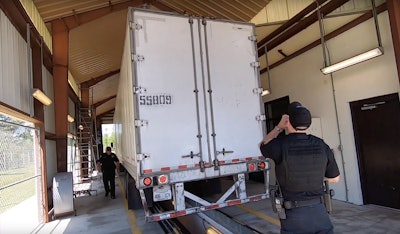 "The use of wire probes or picks to check voltage or continuity should be immediately discontinued, as puncturing the wire also for moisture to wick throughout a vehicle's electrical system, corroding it from the inside out," Liuzzo explains. "Using a multimeter to troubleshoot a wiring harness system is the safest way to ensure the longevity of a harness system without damaging connectors, wires and seals. Any corroded wire should be removed and any splices or repairs made in the field should be covered with a heat-shrink tube."
Truck-Lite recommends using sealed, locking connectors treated with corrosion-preventive compound to ensure a completely sealed connection, especially in applications that are directly exposed to road spray.
"Full encapsulation of the electronics also enhances the performance of LED lighting and protects against corrosive environments," Liuzzo says. "Truck-Lite seals its lighting circuitry in epoxy to protect against shock, moisture and vibration, and offers a wide range of sealed, locking connectors to further protect electrical components."
Commercial vehicles are often exposed to demanding duty cycles and tough driving conditions and any light failures that occur along the way, according to O'Dell, can be narrowed down to three causes: a grounded, open or short circuit where rough wear and tear is often to blame.
"No matter how durable a light is, it can still be damaged by contact with road debris, dock-related obstructions, tools, cargo or equipment," O'Dell says. "But in the absence of overt signs of damage, the causes of lighting failures can run much deeper. Over time, lamp connectors can loosen and the silicone oils that protect them can dry out.
"While connectors, lamp housings and lenses all represent the obvious links in the electrical system chain, lighting failures may stem from less obvious sources," O'Dell continues. "The mechanical action caused by a vehicle's traveling on- and –off-road, has an impact on components, including lights, wiring and harnesses. Continuously flexing cables can develop cracks in layers of outer and inner insulation. Wires and cables that come in contact with metallic surfaces can also become weakened and abraded. Once compromised in the slightest, the vehicle's entire electrical system is vulnerable to moisture and corrosion."
When a light goes out and the bulb is not to blame, which is often the case with LEDs, O'Dell suggests to start looking for connectivity issues near the failed light. Check cables and look over wiring insulation for cracks, oil residue and green residue, a tell-tale sign of corrosion.
Careful pre- and post-inspections by both drivers and technicians can help reduce or even eliminate violations, and when work is required be sure to employ best practices to keep corrosion at bay.
"Prevent corrosion by using non-conductive grease at sockets, pigtails and battery terminals," says Matt Copot, vice president of maintenance at Transervice. "In addition making sure that the correct gauge wire is used is critical to maximize the life of your lights."
And while adding extra lights may seem like a good idea from a safety and aesthetics standpoint, it may get you in trouble.
"Adding additional lights to your vehicle may look cool, but actually add additional strain to the charging system," Lana warns. "This can possibly cause dead batteries and or premature alternator failure."
Snow, ice and road salt usually conjure up plenty of images of corrosion, but as temperatures continue to rise trucks may actually experience more lighting problems related to corrosion.
"Many fleet maintenance professionals think of corrosion as a more winter-related issue," O'Dell explains. "However, though brutal cold-weather conditions and chemicals may help to compromise an electrical system, warmer weather actually amplifies the spread of corrosion. Every 50-degree Fahrenheit rise in temperature, doubles the rate of corrosive activity. Fleet maintenance staffs will want to pay close attention to electrical systems as summer approaches."
Reflecting on safety
While holding a pile of paperwork Trooper Simmons leans in and takes a closer look at the back of a tractor parked near the inspection garage and finds a problem with visibility though it's got nothing to do with lights.
"The white reflector at the top corner," Simmons says while pointing up at the back of the cab. "You've got to have one vertical and one horizontal. He's got them on the left side, but he's missing a horizontal on the right side."
Simmons lifts his pen from his papers and explains that the reflectors on the back of the cab offer increased visibility and safety while bobtailing.
No doubt, increased visibility offers increased safety. Reflectors and conspicuity (reflective) tape can help a truck more clearly standout while traveling dark roads or, perish the thought, if it's stuck on the side of the road at night with no power.
The National Highway Traffic Safety Administration (NHTSA) has required most trailers in trucking applications be equipped on the sides and rear with a means for making them more visible on the road for the last 15 years. The NHTSA rule allows trailer manufacturers to install either red and white retroreflective sheeting or reflex reflectors.
Drivers can receive violations for having defective reflectors and conspicuity tape and should make sure reflectors are free of cracks and dirt.
"You've got to have at least half of the length of the trailer with reflective tape," Simmons says. "If you've got a 50 foot trailer, you've got to have at least 25 feet of tape (evenly spaced) on each side."