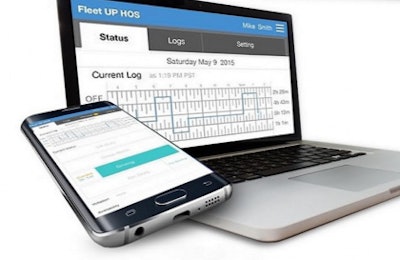 FleetUp, a Silicon Valley-based software company for fleet management systems has added three new features to its platform.
FleetUp can now report engine diagnostics in real-time to the FleetUp software dashboard. By receiving engine specific fault codes directly to the dashboard, FleetUp says its users can avoid costly repairs and vehicle outages.
"In the trucking industry, the best ability is availability," said FleetUp CEO Ezra Kwak. "That's why our new ruggedized ELDs are waterproof and can withstand any terrain- so that fleet managers can continue to monitor vehicle health in real time, without any surprises."
In addition to the new ruggedized feature, FleetUp's smart devices now connect to over 98% of all vehicles, integrating with light and heavy-duty trucks.
The company also has a new Temperature Monitoring feature that works by placing sensors into a reefer trailer. The sensors communicate with the ELD device in the cab to transmit a signal that notifies fleet managers of their cargo's current temperature and humidity levels.
Additionally, the application allows for multiple sensors to be deployed at different locations within the reefer. By monitoring the temperature in areas more likely to fluctuate, such as near the door or air conditioning unit, fleet managers can load their vehicles in a strategic manner.
Finally, FleetUp developed a new Workforce Management tool that gives fleet managers the ability to assign jobs, optimize employee work schedules, and view vehicle maintenance cycles from FleetUp's dashboard.