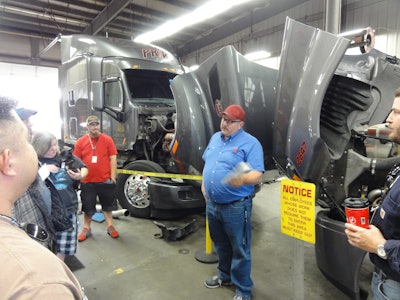 Many fleets with extra capacity in their shops are offsetting their maintenance costs by taking in third-party repair work.
"The technician shortage and the cost of maintaining a shop is probably driving the small guy to go down the street to a bigger fleet to maintain their vehicles," says Renaldo Adler, Trimble Transportation's industry principal for asset maintenance.
Software developers have been responding to more maintenance departments functioning as stand-alone business units.
Trimble has traditionally sold two versions of its Asset Maintenance Software: one for the fleet market and another to service centers. As more fleet customers began doing third-party maintenance and repair work, Trimble added an optional service center module to the fleet market.
Renaldo Adler estimates that as much as 25 percent of Trimble AMS customers with trucking fleets now use the service module. The AMS system keeps track of maintenance costs per mile for their fleets, and this same information is useful for fleets to establish shop rates for their external customers, he says.
The service module comes with an option to add tables to keep track of rates and negotiated discounts with each customer such as "cost plus 10 percent." The pricing and repair data from the tables, along with the actual work performed, can be exported to accounting systems such as Quick Books and Great Plains to complete the invoicing process, he says.
Another option that is now available with the service module is a customer self-service portal. Fleets can give their external shop customers online access to the portal to schedule appointments and receive automatic email reminders when they have PM services coming due. The system can automatically update vehicle mileages to help with scheduling appointments through integration between the software and the telematics systems used by customers, he says.
Expanding service options
Companies with for-hire shops that use fleet maintenance software may be shorthanded when it comes to diagnosing and repairing unfamiliar equipment.
Compared to fleet systems, the applications used by independent shops are developed more for tracking repair and cost data as well as providing repair information on various equipment types. The Manager SE software from Mitchell 1 falls into this category. The software is installed locally and updated through the cloud.
"It is not really a fleet maintenance program," says Kristy LaPage, business manager, commercial vehicle group, for Mitchell 1. The system is best suited for "bringing in business and charging for that business," she says, and it has functions to estimate repairs, schedule mechanics, diagnose and repair equipment, invoice and view shop profitability reports.
The system can export data through links that Mitchell 1 has created for most accounting programs, she says.
Connected shops
For shops that want to go the extra mile and offer full-service contract maintenance to fleet and non-fleet customers, using technology that connects them with other shops and dealer networks may prove beneficial.
Fleets that use Trimble's AMS software have an option to gain full visibility of repairs performed by external shops through an integration with Decisiv. The integration, called TMT ServiceConnect, gives a fleet service manager the ability to view and share data with any service location.
The data sharing makes it easier to schedule and manage service and repair events at over more than 4,500 medium- and heavy-duty service locations, Decisiv says. Its service network includes dealers and independent service locations.
A fleet that provides contract maintenance for a third party could use TMT ServiceConnect to manage a vehicle repair for the customer that is performed outside its own shop, such as at a Volvo dealership, says Trimble's Renaldo Adler.
The transaction would start as a repair order in the AMS system, he says, and could be turned into an invoice for the customer with a markup fee for handling the repair.
Finding the right software can be an important early step to transition a fleet maintenance department into a profit center. Even if the shop doesn't turn a profit, it can at least offer its primary customer the best possible shop rates by subsidizing them with revenue.