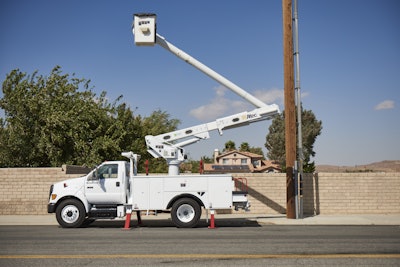 Verizon Connect introduced Verizon Connect Fleet for Government, a new platform with features designed especially for federal, state and local agencies to run safer fleets, gain greater insight into operations and maintenance and to better communicate with workers in the field.
Verizon Connect Fleet for Government includes tools for vehicle inspection automation, asset visibility and management, and to simplify and streamline processes as well as to improve the experience for workers in the field, the company says.
For fleet maintenance the platform has automated vehicle fault code notifications and service schedule reminders. Safety features can improve driver safety with dashboards and driver scorecards. The Verizon Connect Spotlight mobile companion application can be used to remotely monitor vehicles, assets and worker activity.
Verizon Connect says its customers can opt for key enhancements of high precision tracking, law enforcement light bar alerts, which enable law enforcement agencies to avoid driver penalties for driving behavior while the light bar is on. A Driver Vehicle Inspection Report (DVIR) with verified walk around tracking can help eliminate paperwork and improve compliance.
Additionally, Verizon Connect Share allows agencies to share near real-time vehicle locations with third parties to help first responders and emergency response teams operate beyond the boundaries of their own fleets and workers.
Verizon Connect Fleet for Government has web APIs to bring data from Verizon Connect into existing software systems, including AssetWorks.