Note: This is the first of a two-part series that looks at the challenges facing the electrification of trucking. The second installment, which will publish tomorrow, looks at the role truck stops can play in the charging process.
The electrification of trucking focuses mostly on potential cost savings at the fuel island and the elimination of downtime caused by legacy driveline failures. But the potential to slash truck emissions is certainly an added benefit.
The good news is that, according to Byeronie Epstein, e-mobility lead for the World Business Council for Sustainable Development, 95 percent of the global population already is breathing air that exceeds World Health Organization standards.
The bad news, according to the U.S. Environmental Protection Agency, is that the transportation sector accounts for 28 percent of all U.S. greenhouse gas emissions – the largest portion – with medium-and heavy-duty truck segments accounting for 23 percent of those emissions.
Research compiled by GreenBiz, in conjunction with UPS, cites the principle motivators for electrifying fleets as achieving sustainability goals (citing 83 percent of respondents) and lowering total cost of ownership (64 percent).
Electrification strategy
Most truck OEMs have an electric truck program underway. However, Aditya Ramji, manager economist at Mahindra and Mahindra Ltd., said the most effective plan for OEMs to implement electrification is to completely rethink the entire truck and not simply install an electric powertrain into a legacy product.
Such an attack has led various OEMs to forge partnerships to leverage their varying degrees of expertise. Mahindra is working with Ford on electric vehicle projects in India.
"It's not just about products — it's rethinking the way we exist," Ramji said. "At the end of the day, mobility is a business."
"Invention is coming up with an idea, but innovation is really monetizing on that new idea and technology," said Igor Stamenkovic, director of global technology for Eaton. "The critical thing is developing an ecosystem that supports the technologies and developing a business model that is sustainable."
That ecosystem eventually will filter down to the truck dealership level and could further evolve how sales and services are performed.
A high-voltage truck system will require service providers to dedicate bays to electric service.
"You will actually take a couple of service bays and fence those off because of the high-voltage components," said Keith Brandis, vice president of partnerships and strategic solutions for Volvo Group Trucks Technology. "You can't have just anybody wandering through there."
Going green also means spending some green, and high upfront costs are among the largest barriers to entry for electrification.
"In many cases, when you talk about the site changes that have to be made, the utility company has to be involved," Brandis said. "You're probably looking at a facility, like a warehouse or a terminal, that's only a couple hundred watts. Now, we're taking about [charging] several trucks at once. You may need a one-megawatt line."
Will customers actually pay a premium for clean technology? "When we are creating products for the mass market, that is one of our biggest challenges," Ramji said. "We keep wondering how service providers will optimize these technologies. Most of the developing world struggles with the cost of technology."
Infrastructure issues
Cost may be a tall hurdle, but carriers that can make a strong business case from proposed maintenance savings and reduced fuel costs can clear it. A complete lack of a commercial truck charging infrastructure poses a more complex challenge.
"It's more than just the truck," Brandis said. "It's more than just putting batteries and drive motors and sensors and controllers and inverters on the truck. You have to have the power. It's taking diesel and replacing it with the electricity. It's where do you get that from, and how does that charge the truck, and where are the infrastructure points?"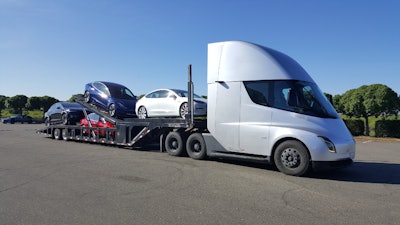 With so few electric units on the highway – and the expectation that the commercial EV population will grow at the pace of a slow simmer well into the next decade – infrastructure buildout has yet to crack trucking's top priorities list. A guidance report issued earlier this year by the North American Council for Freight Efficiency (NACFE), "Amping Up: Charging Infrastructure for Electric Vehicles," indicated early developments in the electric charging network would be privately funded and held.
Jessie Lund, Rocky Mountain Institute associate and author of the NACFE report, said there are tentative plans for public fast-charging networks across main corridors throughout the country that would be capable of charging commercial vehicle batteries quickly. "But we don't see that as a reality for the immediate future," Lund said.
Penske Truck Leasing in April opened commercial heavy-duty electric vehicle charging stations with 14 high-speed chargers at four of its existing facilities in Southern California and the company's near term plan includes adding at least six more.
Located throughout Southern California at Penske Truck Leasing's facilities in San Diego, Chino, Anaheim and La Mirada, these 14 chargers connect directly to a commercial truck's battery charging system, providing a DC fast charging option for commercial electric fleets. Utilizing 50 kW to 150 kW chargers, this charging infrastructure allows Penske to power an all-electric class 8 tractor from zero to 100% charge in under half a shift.
Jason Skoog, general manager for Peterbilt, noted the need to tweak trucking's infrastructure isn't exactly unchartered waters.
"When I think of charging infrastructure for electric trucks, I think back 10-plus years ago and think about discussions on DEF (diesel exhaust fluid) infrastructure as we transitioned to 2010 EPA emissions," he said. "The bottom line is that the industry figured it out and put it where it was necessary based on the needs of the industry and the business case."
While DEF is required in the majority of on-highway vehicles today, electric trucks won't be as ubiquitous as their diesel counterparts 10 years from now, Skoog said.
"Looking at it today, and in the near term, it makes the most sense that charging infrastructure is installed at the fleet depots that are testing the technology, as these are the business cases that make the most sense," he said. "When greater scale is achieved, and if the case can be made for longer hauls with electric powertrains where the truck doesn't return to the same place each night, then truck dealerships and truck stops will naturally install them."