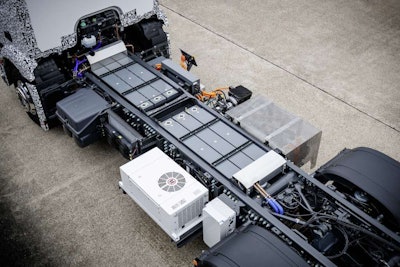 The challenges facing electrification's transition from trucking science project to viable technology are plentiful, but all the parties with skin in the game are doing their part to prod that process along.
Motiv Power Systems Founder and CEO Jim Castelaz, speaking as part of a panel at Green Truck Summit in Indianapolis Tuesday – and whose company has a number of electric powertrain options in the medium-duty segment – says the "movement of goods and people is a fantastic segment for the electric vehicle."
People, Mitsubishi Fuso Truck of America Alternative Fuels Project Manager Jasmin Kluge says, will be key elements of the three "megatrends" – urbanization, clean energy and technology development – that will continue to define the future of commercial electrification.
"The electrification of trucks will be an important driver for clean cities," she says, noting Fuso's eCanter was first showcased in 2016 and full series launch is expected next year. "The electric ecosystem has to be created in partnership with customers, technology providers and municipalities."
Castelaz pegged ideal use cases for electrics as start and stop applications with fixed daily routes who are domiciled in a depot, considerations that Castelaz says eliminate range anxiety and reliance on a national charging infrastructure. Motiv debuted its electric school bus in 2013 and followed that with an industry-first electric refuse truck the following year before rolling out an electric step van in 2015.
Michael Berube, the acting deputy assistant secretary of sustainable transportation, energy efficiency and renewable energy for the U.S. Department of Energy says the average cost of a battery pack currently sits at about $197 per kilowatt hour. He estimates Tesla's costs to be about $10 fewer.
Castelaz says anything under $200 per kilowatt hour is a savings in the medium duty segment versus a fossil fuel powertrain because fleets spend more money on fuel than they do on the truck itself.
"Commercial battery packs and passenger car battery packs can be different," Castelaz says. "Whoever figures out the software, that's going to be the critical path."
The challenge for a commercial truck is packing on enough battery power to supply an extended range of approximately 600 miles without sacrificing payload.
"3 kWh per mile needs almost 2 megawatt hours of storage," Castelaz says. "It's hard."
While currently there is a lot of technology crossover between passenger cars and electric trucks, Bill Combs, director of connected fleet for Penske Truck Leasing, says OEMs will have to rifle-point the differing needs of commercial users and consumers.
"The utilization of a commercial vehicle is as close to 100 percent as you can get it," he says. "These are tools, not sports cars. Hopefully the performance is there for a business."
And getting power to the pack is only a small part of supporting the truck. For long-term viability, Combs says parts availability, service, range, available freight capacity, grants and incentives, familiarity with electric vehicles and education and training are all key parts of a commercial truck equipment lifecycle.
Infrastructure
Charging in the foreseeable future is going to be private – either at a depot, or within a return-to-base operation – according to the most recent report from North American Council for Freight Efficiency (NACFE), "Amping Up: Charging Infrastructure for Electric Vehicles."
"Charging has sort of becoming the key barrier to deployment," says NACFE Executive Director Mike Roeth, who kicked off another panel on charging infrastructure. "Virtually everybody we talked to [for the report], it took more money and time than they thought."
More than a billion dollars are available in state and federal programs to support electric trucks but Castelaz says grant programs in place for infrastructure development favor disadvantaged communities – locations that generally have the biggest infrastructure challenges to overcome.
The lack of a nationwide commercial charging network will make what Combs calls "opportunity charging" important.
"It takes a village and in this case, it certainly takes an industry," Combs says. "These vehicles are different, they need a lot of power, a lot more than a car would need. If you think about loading docks and the opportunity to charge there while waiting in line."
Fortunately, Roeth says charging hardware needs don't vary dramatically from company-to-company. The main differentiations are connector type, speed and price.
Jonathan Ells, director of fleet sustainability for New York City Fleet, oversees vehicles for the NYPD and FDNY, among other departments – a fleet that totals more than 31,000 vehicles.
The city had 211 electrics in 2014 and that's up to 1,756 as of this year. New York has committed to operating a minimum of 2,000 electric vehicles by 2025 and Ells says his department plans to hit that target "five or six years ahead of schedule."
The New York electric fleet infrastructure now totals more than 550 chargers, including curbside, DC fast-charging and solar options that aren't grid-connected.
Don Francis, executive director of Clean Cities Georgia, says fleets shouldn't focus on what integrating electric trucks is going to do to the power bill because "that's not where the costs are," he says. "The costs are 'what's it going to take to get power to the site.'"
If you're not working with your local utility, Francis says, you need to do so throughout the process of site development.
"A lot of times, the utilities are a willing partner," he says. "In some cases they have the ability to reduce your capital expenditures by putting the unit in so it becomes a capital expense instead of an operating expense."
Francis also says it's important to involve your local Clean Cities rep who can help guide a fleet through the process.
"I've actually talked people out of going electric," he says, "because it wasn't best solution for their operation."
Black & Veatch Director of Strategy and Innovation, Transformative Technology Paul Stith says his company has collaborated with Tesla on more than 600 of its SuperCharger sites and is currently working on a network rollout with Electrify America.
"As those batteries get better, that means you need larger infrastructure to support those," he says.