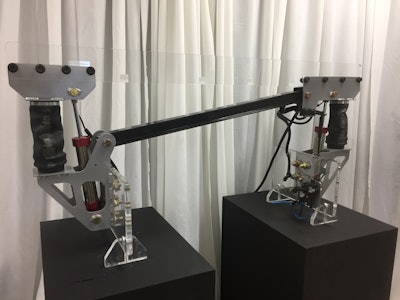 Like many cities across the country, Sioux Center, Iowa has plenty of roads that have been beat up by Old Man Winter. Combine that with several railroad crossings and you've got an ideal setting to test Link Manufacturing's new ROI Cabmate Semi-Active Cab Suspension.
The computer-controlled system can make upwards of 200 corrections per second to adjust shocks and air bags to help smooth out rough roads.
"It's nearly instantaneous," explained Bill Ott, Link's vice-president of engineering.
Constant input from sensors (an accelerometer monitors the motion of the cab while another sensor measures the position of the cab relative to the frame) are analyzed by Link's proprietary algorithms. The system uses less than 10 watts of power and requires less air than Link's prior Cabmate suspension to tame body-jarring rides.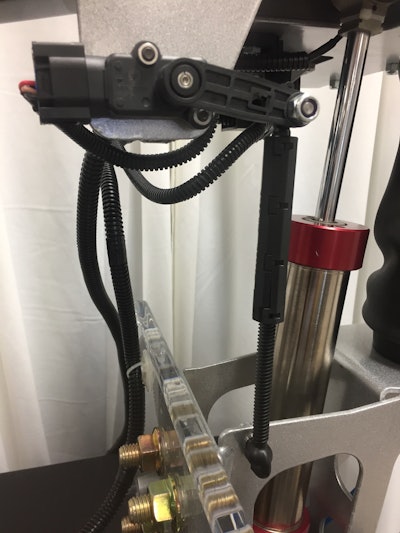 During a test-drive near Link's manufacturing plant in Sioux Center, another reporter and I sat in the back of Link's test truck, a 2016 Peterbilt 579 6×2. During a drive before ROI Cabmate was installed we nearly bounced off the bed in the sleeper when hitting the last of four railroad crossings.
With ROI Cabmate the ride was noticeably smoother, especially over that last set of tracks which brings an important point to bear: an active seat keeps only one occupant comfortable while ROI Cabmate smooths out the ride for everyone in the cab, including that team driver snoozing in the back.
"A lot of the test vehicles within the fleet vehicles are team drives and we're hearing that occupants that are sleeping in the bunk get better sleep," said Link senior engineer Ty Davis. "We're also hearing greater wind stability. Bridge transitions are much smoother, much more stable. A lot of good feedback like that. Just rough roads in general or any transition to on- or off-highway are greatly improved."
Michael Hof, Link's vice president of new business development, credits the quick-thinking ECU for getting the most out of ROI Cabmate's shocks and air bags.
"With adjustments being made hundreds of times per second, the system can respond appropriately at each instant, thus drivers and passengers immediately have a very soft shock when traveling on a smooth highway, and a very stiff shock when driving on uneven or off-road terrain," Hoff said. "The system deals with unexpected encounters, like potholes, in real time."
In addition to extensive lab tests through its new, state-of-the-art equipment, Link has been drawing on data from ROI Cabmates installed in 20 trucks that together have racked up roughly 1.5 million miles. Driver feedback among the handful of fleets testing the suspension has been critical as well.
"It definitely makes the tractor ride better," said Joel Morrow, senior driver and head of research and development at Plogger Transportation. "There's no question that the truck rides smoother. I also like the idea that we can shrink the wheel base a little bit."
Captain Fausto Velazquez, president and CEO of Transportada Consolidada in Mexico, has four Freightliner Cascadias equipped with ROI Cabmates. After 345,000 miles on Mexican roads and highways, Velazquez said his drivers are more comfortable, not only from a smoother ride but from less noise entering the cab.
"Without the ROI cab suspension, the feedback from the drivers is that they're tired and they need extra days for recovery," Velazquez said.
Charles McPherson, a driver at Valley Transportation, has the ROI Cabmate on a Peterbilt 389.
"Everything's working out good with the suspension system on the sleeper," McPherson said. "There's a lot of things that I've had to carry with me for a month at a time. I noticed stuff on top of the sleeper isn't coming down on the floorboard like it used to. I'm glad they're working on things to keep drivers comfortable."
ROI Cabmate also features electronic height control. The system minimizes air consumption compared to traditional height control valves, because it does not fill or exhaust air in response to dynamic suspension motion. The system is designed to produce a better overall ride regardless of road surfaces and atmospheric forces, such as wind sheer.
Though dealers will set the final price, Hof said Link would like to keep the cost under $2,000. Besides working directly with OEMs, Link is working on making retrofits available. Time for installation is approximately three hours.
The ROI Cabmate is semi-active because, as Ott explained, it modifies the dampening ratio of the truck's suspension.
"I'd like to do a fully active cab suspension someday, but we've got to get them to buy this one first," Ott said. "It's a lot more complex."
Roughly ten years in the making, ROI Cabmate draws on nearly 40 years of Link's cab suspension technology.
"In 1980, the Cabmate premium cab suspension irrevocably improved safety and comfort in Class 7 and 8 cabs," Jim Huls, president of Link Manufacturing, told reporters. "Today we are the global leader in cab suspensions with our two millionth Cabmate rolling off the assembly line this May.
"The new ROI Cabmate you are about to see will usher in a revolution in computer-controlled suspension systems for a variety of vehicle applications, and Link is leading that revolution," Huls added.