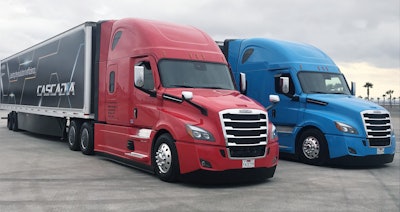 Practically every OEM over the last few years has either rolled out a new model, revamped their entire lineup or refreshed existing models, leaving little room to further renovate their truck catalog this year.
To that end, the opportunity to drive new equipment this year was more limited than last when truck orders were at record highs. Still, I was able to have to some fun on the highway this year behind the wheel and below is a brief rewind of the year in test drives incase you missed any of them when they were originally published.
The year certainly came out of the gate hot. In February I got to put a next generation Cascadia tractor on the highway between West Palm Beach and Fort Pierce, Fla. The truck, which went into production this Fall, enables SAE Level 2 automated driving and is the first production model to hold such distinction in North America. Level 2 automation means the truck can accelerate, decelerate and steer independently.
Thanks to a travel conflict, I didn't actually get to drive this one so shoutout to my colleague and CCJ Associate Editor Tom Quimby. Tom went to Sioux Center, Iowa to get some seat time with Link Manufacturing's new ROI Cabmate Semi-Active Cab Suspension. The computer-controlled system can make upwards of 200 corrections per second to adjust shocks and air bags to help smooth out rough roads.
Earlier this year, Peterbilt debuted its new Blackout Exterior Package for the Model 579, featuring an exclusive black effect exterior paint for the cab and sleeper, Alcoa Dura-Black matte aluminum wheels and a black finish grille crown. This summer, I took a blacked-out model – spec'd with an UltraLoft sleeper and upgraded with Pete's Epiq package – for a nearly 200 mile jog from Denton to Henrietta, Texas.
Volvo Trucks North America in September took another step in driver assist systems by introducing Volvo Dynamic Steering (VDS) on its VNL and VNR for next model year. I've driven both of these models previously to this drive more more of a technology demonstration than an on-highway jaunt.
Volvo's electrically assisted hydraulic steering, which debuted in Europe for the 2014 model year, was in use by two reversing Volvo FM trucks while Jean Claude Van Damme did the splits between them. That viral video has been viewed more than 93 million times since Volvo Trucks uploaded it to YouTube in November 2013. Sadly, I wasn't able to convince anyone to straddle my trailer during my drive.