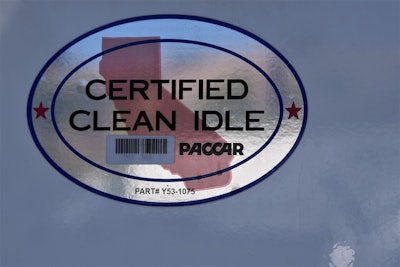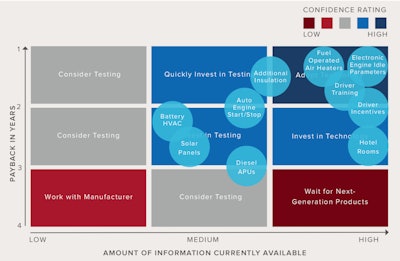 Idle-reducing solutions are more prevalent than ever before, but according to the most recent report from the North American Council for Freight Efficiency (NACFE) the value they bring to the fleet level is shifting.
NACFE published its first report on idle-reduction technologies five years ago with fuel prices north of $4 a gallon. While fuel prices still dominate fleets' operating expenses, lower pump prices (the U.S. average price for a gallon of on-highway diesel is currently barely more than $3) have extended payback time for idle reduction technologies.
In terms of fuel savings, a 10% annual reduction in idling equals about 1% in fuel economy – or upwards of about $700 annually at $3.00/gallon fuel prices and 100,000 miles/year. The report called a reduction of 20% "not unreasonable if the right combination of technologies is employed and managed."
"By investing in technologies and practices, fleets can reduce idle to well below 20%," said NACFE Executive Director Mike Roeth. "The challenge is figuring out which set of technologies are best for you and being diligent in making it work."
With payback now a little trickier to catch, and no one-size-fits-all or magic bullet options, NACFE found the most efficient and effective idle-reduction solution is more strategy-related than product, encouraging the deployment of a combination of complementary technologies for maximum results.
The report identifies four anchor technologies — driver controls + fuel-operated heaters, diesel APU + fuel-operated heater, battery HVAC + fuel-operated heater, and automatic engine start/stop system — as the best basis solution with additional technologies to support the anchor.
Each of the four cited anchor technologies directly affect the driver. Fuel savings aside, the report found the most significant contribution to fleet operations for idle-free tech is driver attraction and retention, in that they help keep drivers comfortable during mandated rest periods and give the ability to use computers, gaming systems, microwaves, refrigerators and mobile device charging with the engines shut off.
"There are a lot of really good reasons to limit the idling of the main engine in a truck – providing the driver with the most comfortable conditions to spend his or her breaks, saving a little fuel, saving a little wear and tear on the engine, and, last but not least, it's good for the environment, said Kevin Otto, Team Lead for NACFE's Idle-Reduction Technologies Confidence Report.
According to a fleet survey conducted in support of the report, idle time for carriers that do not use APUs tends to be in the 30% to 50% range. Fleets using an APUs can see idling drop into the single digits to 20%.
Among the secondary takeaways from the report is that the implementation of idle-free solutions is growing. The overall adoption rate of the technologies studied in the report has grown from 17% in 2003 to 44% in 2017.