The tech-enabled "Gig" economy is giving millions of people freelance opportunities by connecting them to on-demand work through smartphone apps. Truckers can find loads. Motorists can locate passengers to shuttle across town as well as food and packages to deliver. You can even get paid to walk pets.
Gig opportunities are growing in fleet maintenance as well. Service providers, from roadside technicians to tow-truck operators, are able to stay connected to on-demand work to grow and diversify their businesses.
For Tyler Harden, the opportunities in the gig economy for tow truck operators, mobile technicians and independent service centers were enough to convince him to leave his thriving family business, Jim's Towing Service, as its third-generation leader.
Harden joined TTN Fleet Solutions in July as a vice president to oversee the company's partner network of maintenance providers. Harden credits TTN Fleet Solutions for connecting Jim's Towing Service to work opportunities, and he wants to help many other service providers grow and diversify.
Bakersfield, Calif.-based Jim's Towing Service launched JTS Truck Repair in 2003. In the past three years the fleet maintenance business grew by 40 percent and today has 45 mechanics and 28 mobile maintenance service trucks that cover a 240-mile region from Bakersfield to Fresno in the north and to Buena Park in the south.
Today, JTS Truck Repair accounts for 75 percent of the company's overall $15 million in annual revenue, he says.
TTN's network includes towing, repair, and fleet maintenance businesses that serve the needs of its fleet customers. The company negotiates with the service providers in its nationwide network to establish fair and competitive rates and terms. The company scores the performance of its providers. Those who perform well benefit from greater revenue, faster payment, and consistent business.
TTN leverages the abilities of service providers in its network to send out multiple vehicles to a roadside breakdown, if needed. Perhaps a fleet customers has a truck that needs a new tire as well as a mud flap and light repairs.
"We collect more data from our providers than the rest of industry, I believe," says Harden. "What that means is we can better assign the correct provider for the correct service needed on roadside."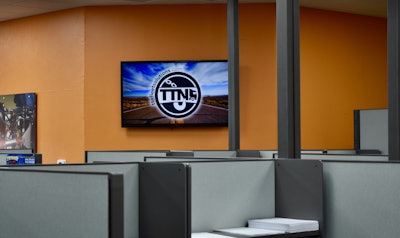 TTN connects fleet customers to service providers through a cloud-based application named Fleet Assist. Freight brokers are also customers and are using the company's network to give their owner-operators and contract carriers access to the best service providers for scheduled and unscheduled maintenance on routes.
The Fleet Assist software speeds transactions by finding the best provider to service fleets' immediate or scheduled maintenance needs. The software also tracks the performance of service providers, such as their planned estimated time of arrival for roadside technicians and their actual ETAs. The goal is to minimize downtime for customers, Harden says.
Coming developments for Fleet Assist will bring expanded functionality to users in the gig economy. Towing and maintenance service providers will have more opportunities to grow and diversify their businesses, Harden says, as the company brings together more data points to optimize its service network and increase the relevancy of jobs for each user.