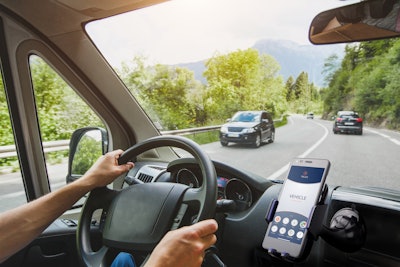 Distraction related to cell phone use, eating or general inattention is the second leading driver-related cause of fatal truck crashes in commercial vehicle fleets.
The Federal Motor Carrier Safety Administration has penalties for drivers caught by officers using handheld cell phones while operating a vehicle. The fines go up to $2,750 per violation. The agency also can levy a maximum penalty of $11,000 for companies that permit this behavior.
Most fleets already have zero tolerance policies for drivers using handheld devices behind the wheel. Enforcement of company policy and FMCSA regulations is haphazard at best, however.
New technology from Truce Software makes it possible for fleets to automatically enforce safety policies for mobile device use according to the context. For example, a driver could be restricted from using a personal device when behind the wheel of a company vehicle but have full access to all functions and apps on the device when not in motion or in a personal vehicle.
The Truce platform has an application that resides on personal or corporate mobile devices. The app can be paired with a small device attached in the cab called a "beacon" that permits the app on a device to take control only when the device is inside a company vehicle.
The mobile app can be configured by fleets remotely, through an admin portal, to restrict use for some or all of the device functions according to "contextual indicators" like dates, times, geofence locations and motion.
As another example of a contextual usage policy, a fleet may only allow its drivers to make and receive handsfree Bluetooth calls from their phones while they are in motion and suppress all other device functions and apps.
The software from Truce has machine learning algorithms that can support advanced safety policies for "micro" contexts. As an example, a fleet with team drivers can allow the passenger driver to have full access to his or her device but suppress the mobile functions for the driver behind the wheel.
The app has algorithms that can look for certain images and scenery using the forward and rear cameras on a phone. The technology can determine if a driver is in the driver's seat, and enforce the fleet policy accordingly, says Joseph Boyle, the company's chief executive officer.
Drivers might object to an employer using such a technology to place restrictions on how they use their devices, even if in an unsafe manner. Yet other drivers might appreciate their employer using the technology, given the seriousness of the risks from mobile distraction.
A recent Forrester report found that up to 50% of employees admitted to being more productive, working less overtime and feeling generally happier when their workplace implemented an effective mobile device management policy.
Ruffling some feathers is a chance fleets may be willing to take to be able to automatically enforce their safety policies and eliminate mobile distractions. Truce clients normally see a 35 to 40 percent reduction in accidents, Boyle says.