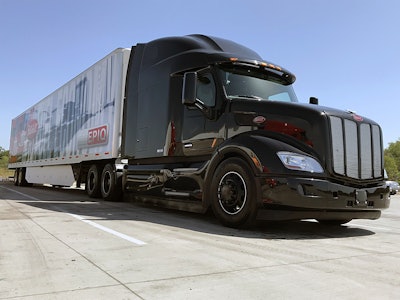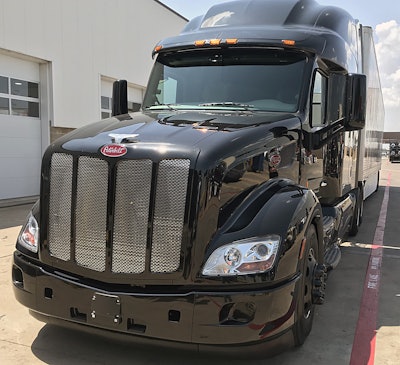 Colorway has been a buzzword in professional sports for several years. For example, the NBA's uniform partner, Nike, has long been seen as an innovator when it comes to mixing fabrics, fonts, colors and design to churn out various creative colorways for teams.
Oregon's football team has five this season (with near-limitless combinations), but cool colorways aren't generally hot topics at the fuel island.
Until now.
Earlier this year, Peterbilt debuted its new Blackout Exterior Package for the Model 579, featuring an exclusive black effect exterior paint for the cab and sleeper, Alcoa Dura-Black matte aluminum wheels and a black finish grille crown.
Peterbilt has long been embraced by owner-operators and small fleets because of how easy they are to customize, but that usually means stockpiling and hanging aftermarket chrome from headlight to taillight – or spec'ing a Model 567 Heritage, which isn't short on factory shine. But this murdered out truck goes in the opposite direction, trading in bling for a striking package that's more Batman than Bandit.
"One of the cornerstones of Peterbilt is our ability to provide individualized solutions to match our customer's need," said Peterbilt's On-highway Market Segment Manager Wes Slavin.
The Blackout Exterior Package was designed to appeal to Pete 579 customers looking for some distinguishing features, and Slavin said he foresees the option being particularly popular within the owner operator community as well as being used as a reward truck for larger customers.
I took a blacked-out model – spec'd with an UltraLoft sleeper and upgraded with Pete's Epiq package – for a nearly 200 mile jog from Denton to Henrietta, Texas, and while the all-black finish basked in the 100-plus degree heat, it looked all kinds of cool doing it.
My fuel economy for the trip was about 8.5 mpg, which was pretty good for dragging a 77,000 lb. gross across Texas hill country. Fuel efficiency is supported by the truck's Epiq technologies, which tie together its MX-13 engine (455 hp & 1,650 lb.-ft.), Paccar 12-speed automated transmission and the Paccar rear axle to squeeze more fuel bang for the buck.
Take rates for Paccar's MX engines continue on the upswing, with more than 60% of Model 579 customers spec'ing one.
The trailer was outfitted with tandem wheel covers, skirt and tail to make the combo extra-slippery but Pete's 579 Epiq goes all-in on aero by itself. It includes optimized components like a three-piece bumper with aero bumper dam; aerodynamic hood with wheel closeouts; an exterior mirror; sun visor; and extenders with rubber guard. Optimized fairings include a pulled forward roof fairing; roof fairing close-out and trailer bridge; side skirts (above and below chassis fairing); and extended chassis fairings with kick-out. The set up does an excellent job at tossing air down the sides of the truck to reduce drag and wind noise, making for an exceptionally quiet ride.
A flat floor, additional headroom, more storage, and spacious living area are a few of the slew of driver-friendly benefits UltraLoft offers over prior discrete large sleepers. UltraLoft is a spacious and comfortable place to spend time on the road and its integral design also improves aerodynamics by 2%, resulting in a 1% improvement to fuel economy.
Total orders for Perterbilt's 579 UltraLoft currently sit at more than 11,000 units.
"When we launched the UltraLoft in 2018 we did not see it as a replacement for the large discrete sleeper business, and that has held true through 2018 and so far through 2019," Slavin said. "We saw a lot of incremental increase for the UltraLoft, but the discrete sleeper business remains strong with both 72- and 80-inch sleepers. We still have light-weight conversations with customers, but with fuel prices holding steady we are seeing a lot of customers looking for creative ways to find weight savings while staying with the larger MX-13 engine. One of those options is the UltraLoft and its 220-pounds of weight savings."
The Alcoa Dura-Black wheels do an excellent job of tying the package together, but also contribute to fuel economy. According to Alcoa, Dura-Black wheels provide the same advantages as all of the company's lightweight forged aluminum wheels, making them lighter and stronger than steel wheels. Both sides of the wheels are treated for flexibility of mounting in steer or drive position. The two-tone rim flange and mounting surface offer a premium appearance and enhanced protection during mounting and while in use.
Beyond the surface, each wheel rim flange and mounting surface appears bright, and in contrast to the wheel's matte blackface. The wheels also feature a color-matched valve stem and one-piece hub cover system.
Technology also plays a role in boosting fuel efficiency.
In ideal traffic conditions I'm a big fan of cruise control, especially advanced ones like Peterbilt's Predictive Cruise. It integrates the Paccar powertrain, cruise control and satellite mapping to read the road ahead and automatically adjusts the engine and transmission while in cruise to save fuel. Adding Neutral Coast, a fuel-saving feature that disengages the driveline on slight downhill grades, kicks its fuel friendliness up another notch.
The Blackout Model 579 UltraLoft offers plenty of show truck splash with the kind fuel efficiency that hits right to the bottom line. The old saying may be, "chrome won't get you home," but Pete's black will certainly bring you back.
The black finish grille crown and Dura-Black aluminum wheels are also available as standalone options with any exterior color.