In partnership with California's South Coast Air Quality Management District (SCAQMD) and industry leaders in transportation and electrical charging infrastructure, Volvo Trucks will introduce all-electric truck demonstrators in California this year, and will put them into commercial production in North America in 2020.
The California Air Resources Board (CARB) awarded $44.8 million to SCAQMD for the Volvo Low Impact Green Heavy Transport Solutions (LIGHTS) project – a green initiative involving 16 partners working to transform freight operations.
Volvo's first 113-inch BBC electric VNR models – chosen for their tight turning radius and driver comfort features – will soon be headed to the Port of Los Angeles, put into test operations with NFI and Dependable Highway Express.
"The return-to-base, and hub-to-hub operations are where [electrification] makes the most sense, where customers can invest in their own infrastructure," said Chad Burchett, chief project manager for the electric VNR. "As energy storage systems improve over time, then we will move segment-by-segment until we eventually make it out into the long haul segment."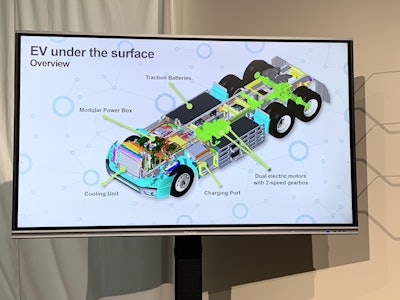 Brett Pope, director of electric vehicles for Volvo Trucks North America, foresees the electric truck potentially transforming transportation by eliminating tailpipe emissions, and allowing for more nighttime operation and facilitating a more comfortable work environment thanks to the absence of diesel engine noise.
"If you take a heavy duty truck off the road during peak hours, that could help with traffic congestion," he said.
Volvo's electric VNR features center-mounted dual electric motors with a 2-speed gearbox.
Behind that is a mostly conventional driveline. Four packs of batteries, each weighing about 1,150 pounds, supply onboard power. The battery system is designed like a shelf, allowing packs to be slid in and out for service.
The electric VNR leans heavily on powertrain technology from the Volvo FE and FL electric cabovers introduced in Europe last year.
Not only will the electric truck change shipping habits, Pope said it will likely change how OEMs do business. Pope suggested truck manufacturers like Volvo could initially offer would-be electric customers several new options:
Truck as a service – A full service lease with maintenance, insurance and uptime billed via monthly invoice.
Infrastructure as a service – The OEM helps a customer set up infrastructure and provides consulting services to evaluate a fleet's energy needs.
Energy as a service – A fixed negotiated rate, including energy optimization, and possibly onsite solar.
"Preparation and teamwork between the dealers and the customer will be critical," Burchett said.
"The electric product will be integrated into our existing tools and process," Pope added. "[The dealership network] will have to be prepared and trained."
Initial sales of the electric VNR will be limited via regional rollout in California. The first offering, slated for late next year, will be straight trucks and tractors in 4X2, 6×2 lift axle and 6×4 configurations with a GVW of 66,000 pounds. By the end of 2021, Pope hopes to boost GCW to 80,000 pounds with improvements made to the eclectic driveline and next generation batteries. Pope also notes the truck's range would be significantly impacted by the driving habits of the person behind the wheel.
"The characteristic of a very fuel efficient driver will also affect an electric platform [range]," he said.
Pope said it takes about an hour to charge a fully depleted truck, adding the target cycle life of a battery is about eight years given a variety of factors.