Eugene "Gene" England started his career when his father, Chester, took Gene and his brother Bill in a 1920 Model T to deliver potatoes and other commodities to store markets in Cache Valley, Utah.
The trucking pioneer, who turned 102 years old Oct. 24, 2021, has seen the industry unfold from all vantage points in the years since.
"Dad was a guy that really knew how to treat his sons," said Gene. "He would challenge them to learn what he was doing."
Gene's middle name, Knight, came from his mother, Maude Knight. His extended family includes Kevin Knight, the founder of Knight Transportation. But the Englands and Knights are not the only trucking families with roots in Plain City, a small farming community in northern Utah.
When Chester's business outgrew the Model T, he purchased larger 1.5-ton gasoline trucks — Fords, Chevy's and Internationals. "He never had big trucks," Gene notes. His were "bobtails that did what he could do."
The trucks came with a 1.5-ton weight limit, but the Englands needed to move at least five tons of freight to make the trip to Wyoming and back turn a profit, Gene said. The father and sons "added some things" to make the trucks "capable of carrying a lot more weight. And we were, I guess, successful at it. Dad fed the family with that type of operation."
Gene started driving at 14 with an Idaho driver's license. He brought Bill, his younger brother of 3.5 years, along for the ride. "Dad bought the produce from around Plain City and the county there, and then we hauled it up to Cache Valley and up as far as Preston (Idaho) and then into Wyoming," he said.
Working side-by-side with Bill "went on for our whole lives," he said. "He was my absolute best friend. We never had problems. We just worked together."
A post-war plan
During WWII, Gene was enrolled at Brigham Young University in Provo, Utah, before joining the Army. He earned a bronze star for his valor during the Battle of Okinawa. He was also earning money during his military service by selling his cigarette rations.
By the time he returned from the war, Gene had saved $5,000 to pursue his business interests.
"I went into World War Two with a determination that we were going to come back here and get into the trucking business," he said.
In 1946, Gene bought his first truck, a 1.5-ton 1940 Kenworth with a Cummins diesel. One of his first employees and team drivers in that truck was Carl Moyes, the father of Jerry Moyes. The two purchased Swift Transportation in Phoenix, years later, when it was a five-truck refrigerated carrier.
"He and I were driving out of California with produce in there," Gene said of Carl. "And then his son Jerry came along…so we've been a trucking family and of course the Knights are my cousins."
"Jerry was a bright guy," he said. "He had no fear of anything in the world and he went for it, big time."
Jerry Moyes brought in Kevin Knight to Swift and taught him the trucking business, "and so it's all history now," he said. "The little town of Plain City has put out an awful lot of trucks, I'll tell you that."
Making connections
Before the war, C.R. England did not have operating authorities granted by the Interstate Commerce Commission.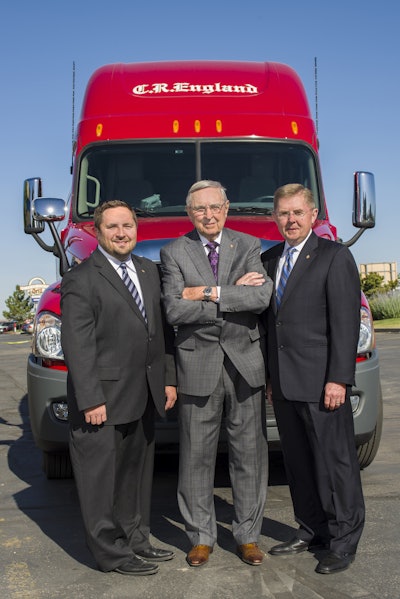 "We were an exempt commodity carrier," he said. "Of course, we immediately saw that we had to get authority to make money in the business, so we got into trying for authority and applying for applications so we could improve our hauls."
Gene started the process of gaining authorities in 1946 and from that point on, "I never doubted for a one minute that it was going to go. It had to go. We never looked back."
A breakthrough came in 1955 when C.R. England launched a 72-hour refrigerated service from southern California into Philadelphia and New York City.
"That was a hot service," he said. "I'd say from then on we were moving."
That route traversed two-lane highways, he remembers, and in Chicago drivers got onto the turnpikes. C.R. England started the cross-country refrigerated service with 14 Thermo King reefer trailers, but there was a glaring problem. The reefer units were mounted under the trailer.
"They pulled enough dirt in them from being underneath the trailer that they were pretty well worn out after a year," he said. "Thermo King came in and sold us front-mount units. We took those in and then we started being able to control the temperatures wherever we needed to, and we have been a very successful operation since then."
C.R. England primarily hauled produce to Philadelphia and Boston and brought back "fishery products" to the West, he said. The backhauls included poultry such as Long Island ducklings.
In the 1950s and 60s, Gene spent many days on the road. Not only was he a driver; he was the only salesman the company had. "I would take a load east and then spend the week out there soliciting," he said. England focused on finding shippers to support the company's efforts to gain ICC authorities.
In a lot of cases, "we were leasing with carriers that had authority," he explains, to have the connections needed to provide coast-to-coast service.
Other carriers took notice of England's success and petitioned the ICC. England remembers a particular connection the company was defending in the 1970s. The ICC reviewed the case and "we came out thinking that maybe we had lost the whole thing."
Getting his sons involved in the business helped England overcome this and other obstacles. All six of his sons — Jeff, Dan, Rod, Dean, Todd, and Corey — followed him into the trucking business.
"When my sons came on board, we started doing things much better. They came in with a lot of good ideas, and we started doing things more businesslike, I think, and so we saw real growth come on then."
In the late 1970s, one of Gene's sons, Dan England, was a transportation attorney and helped to "remove some of the things that were holding us up to get the authority," he said. "We had a lot of carriers that were resisting us. It was a battle."
With the Motor Carrier Act of 1980, the battle lines for operating authorities went away.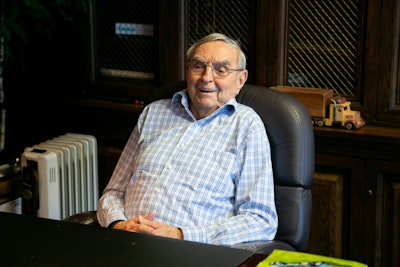 No quitting at 100-plus
While his sons would take over the business, Gene England never stopped coming to work. His love of driving continued into his 90th year. "I would often times grab a truck and go to Idaho, grab a load and pull it back down here," he said.
Gene also owned a car leasing business that sold cars to company employees. If his debtors wanted to change cars or if he had to repossess vehicles, Gene would take a load out to a particular area of the country, and take up to three vehicles back to Utah in a reefer trailer.
During his 90th year, "my sons came to me and said, 'Dad, we kind of think you ought to hang it up.' And I said, 'well my CDL is good for another year and two months. I want to run it out.'"
The next morning, his sons had the company's attorneys meet with Gene to explain the situation. No matter how good his skills as a driver, the attorneys said, at 90-years old any accident Gene had would be considered his fault. "So I gave it up," he said.
"It's been a life of excitement and happiness," he said. "I just couldn't have been happier any other way because I was doing what I wanted to do."
Now moving into the fourth generation, Gene's descendants are following his path, with grandsons Chad, Josh, Zach and TJ at the helm of C.R. England.