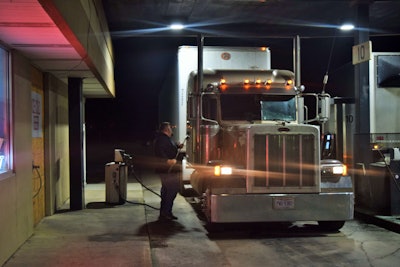 The national average for a gallon of on-highway diesel fuel jumped 9.4 cents last week, according to the Department of Energy — the week after attacks on a Saudi Arabian oil field crimped the country's oil production.
The jump pushed the country's diesel average to $3.081 a gallon.
ProMiles analyst Chris Lee said oil prices were fairly steady last week after Monday's jump to over $62 per barrel and Tuesday's correction back below $60 per barrel. Lee added that Saudi production has already been restored to approximately 75% of production that went down after the attacks.
The 9.4-cent increase in prices is the largest single week change in the U.S.' average fuel prices since September 2017 when Hurricane Harvey hit Texas and Louisiana.
All regions saw an increase in prices during the week, with the Midwest seeing the largest jump with an 11-cent increase, followed by the Lower Atlantic and Gulf Coast regions, which saw 9.7-cent increase.
The nation's most expensive diesel fuel is California, at $3.976 per gallon, followed by the Central Atlantic region at $3.252 per gallon.
The cheapest diesel can be found in the Gulf Coast region at $2.858 per gallon, followed by the Lower Atlantic region at $2.971 per gallon.
Prices in other regions, according to DOE, are:
•New England – $3.07
•Midwest – $2.992
•Rocky Mountain – $3.034
•West Coast less California – $3.238
According to ProMiles' numbers, fuel prices jumped 8.1 cents to $2.956 per gallon nationwide. California saw the biggest week-to-week jump, increasing by 10.3 cents. The smallest jump was seen in New England, where prices only increased by 3.2 cents. The Gulf Coast region continues to boast the nation's cheapest fuel at $2.833 per gallon, according to ProMiles' Fuel Surcharge Index.