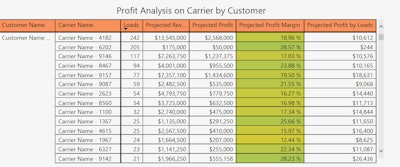 Descartes Systems Group released a new analysis and reporting application for data contained within Descartes' products.
The new product, Descartes Analytics, uses Microsoft Power BI with Descartes standard integration, data models, dashboards and reporting templates. Descartes says its customers will be able to customize the configuration and reporting, and it will support integration to third-party applications.
Additionally, Descartes has a team of data science experts who can help to configure the product for its customer's unique needs.
The initial launch of Descartes Analytics is ready for use with:
Descartes Routing, Mobile and Telematics;
Descartes Transportation Management;
Descartes MacroPoint;
Descartes Datamyne; and
Descartes Aljex solutions.
"There is a tremendous amount of additional value our customers can unlock by better understanding the data our solutions create or capture," said Ken Wood, executive vice president of product management at Descartes. "Using Microsoft Power BI, our goal was to develop an "out-of-the-box" analytics solution that is very powerful yet cost effective and allows us to focus on leveraging our deep logistics and supply chain expertise."