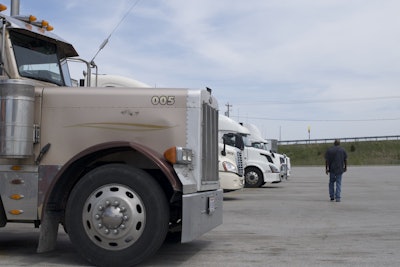 Stay Metrics, a provider of driver retention tools for motor carriers, has new research that identifies the top reasons why drivers leave their carriers within the first 90 days.
Early-stage driver turnover is one of the most costly and disruptive factors for transportation companies. According to the Stay Days Table, an index by Stay Metrics that tracks driver retention across a broad range of motor carriers, only 64.9% of drivers hired in the first quarter of 2019 lasted 90 days.
"We want everyone to know how to increase the success rate for retaining drivers in the first 90 days and beyond," said Tim Hindes, co-founder and chief executive officer of Stay Metrics. "The goal of our latest research project was to give motor carriers a list of five things they should be watching out for when bringing on new drivers."
Stay Metrics analyzed response data and text feedback from surveys completed by drivers for the first 90 days on the job. Stay Metrics administers driver survey products for motor carriers as a neutral third party.
The company sends out a First Impressions Survey shortly after orientation to gain insight into what drivers are thinking at the start. An Early Driver Experiences Survey follows several weeks later. Researchers compared responses for both surveys to whether or not drivers were currently with their carriers at the 90-day mark.
Survey questions were then ranked according to the strength of their correlations to turnover. Four of the top five questions center on transparency:
My recruiter accurately described what it would be like to drive for this carrier.
My recruiter accurately explained how much my settlement would be.
My recruiter accurately explained what kind of runs I would make.
In orientation, I accurately learned how much settlement I would receive.
"Drivers need to know in advance what they can realistically expect will happen during their first days and weeks on the job," said Hindes. "Transparency is your friend. The more you share in advance, the better."
According to Stay Metrics, the fifth question is one of the most important indicators for determining if a driver is at-risk of leaving: "I would recommend this carrier to another driver." The question is based on the Net Promotor Score (NPS), a widely accepted measure of company loyalty.
Researchers also performed a word cloud analysis of survey text responses. The analysis further reveals what influenced drivers to increase or decrease their overall opinion of a carrier. Findings show that key words focused on the same topics — work, pay, and drivers — as the top questions. This observation suggests that the same things that sway drivers to like a carrier are the same things that, if done poorly, sway them to dislike a carrier.
Stay Metrics announced the new research in advance of the American Trucking Associations Management Conference & Exhibition (MCE) that is taking place Oct. 5-9 in San Diego. Tim Hindes and other team members from Stay Metrics will be available at MCE (booth #3073) to discuss new research and evidence-based strategies that motor carriers can use to significantly increase driver engagement and retention.
Anyone can review the full, free report on the Stay Metrics website.