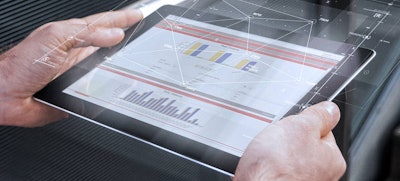 High-tech companies such as Google, Tesla, Uber and Amazon have billions in cash, the brightest engineers in the world — and big data. They and a number of well-funded startups are pursuing opportunities in the transportation and logistics industry on a large scale.
Motor carriers may not be competing for freight against these titans yet — except for perhaps Uber and its brokerage business — but that will change before autonomous trucks hit the road linked to big data and supply chain intelligence.
Transportation and logistics businesses have seen an explosion of data in the last few years. Their data may not be on the same scale of the aforementioned companies, but many are just as competitive in their areas of specialty.
Below are three examples of companies that are getting the most from their data to drive new growth and higher profits while building on their competitive advantages.
PS Logistics
Mauricio Paredes, vice president of business technology for PS Logistics, tells employees at the Birmingham, Ala.-based company they will be solving big logistics problems with data and technology.
2019 CCJ Solutions Summit: Making Money in a Changing Market
With sessions at the event around:
» Improving your equipment life cycle;
» Turning your maintenance department into a profit center;
» Losing the customers you lose money on;
» Making money off the data you already generate;
» and more,
CCJ Solutions Summit will give you critical information to take your business to the next level. Join us, November 18-20, in Scottsdale, Arizona.
"We want the entire company to be more data-driven, see the value of data and understand how every little thing they enter into the system matters," he says.
P&S uses a business intelligence platform from McLeod Software with a SQL Server database service packaged into multidimensional data cubes for various user roles.
P&S started with an operations cube for its carrier and brokerage divisions. The BI platform makes it easy for anyone to find answers quickly, Paredes says. Users drag and drop selected data fields into a blank report canvas to discover relationships.
If a user wanted to analyze the costs of doing business with a particular customer, he or she could drag and drop a customer data field into the canvas and then bring in fields for cost by fleet, department and location.
The brokerage and logistics side of P&S has adopted the BI technology the earliest and are acting on information faster, Paredes says. The logistics business has been able to identify customers who are the most profitable but have the lowest volume of loads.
By conducting further analysis, the reasons why the customers are low volume — or have become that way — are made known to highlight new sales targets and opportunities more quickly.
Everyone in the company has an equal opportunity to be an analyst and play a vital role in helping the company stay competitive and advance their careers, Parades says.
Crestwood Transportation
Crestwood Transportation operates an integrated, nationwide fleet of 350 trucks that distribute natural gas liquids (NGLs), crude oil, condensate and water products for Crestwood Equity Partners LP and its customers.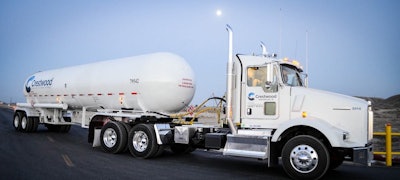 The company uses telematics, Internet of Things (IoT) devices and mobile applications to collect real-time data from assets in the field. The technology has significantly expanded the volume and richness of data; just as fracking technology created a boom in the company's oil and gas exploration.
Crestwood deployed new enterprise platforms and integrated applications that optimize load planning, scheduling and routing. Together, these systems automate processes in the quote-to-cash cycle for orders and loads.
It has also deployed new data warehousing and business intelligence tools that enable management to quickly identify exceptions and take corrective actions.
Besides standardizing business processes, the company deployed data warehouse and business intelligence tools to give users real-time information "to make good decisions that drive the business forward," says Jason Meares, senior manager of logistics systems.
The data warehouse and business intelligence tools assimilate financial and operational data and provide real-time visibility to profitability for every order by lane, commodity and customer.
Crestwood uses Great Plains financial software with Microsoft SQL Server Reporting Services, proprietary dashboards and data visualizations built using TMW BI and other proprietary BI tools. The carrier also uses the Microsoft Azure cloud computing platform, Microsoft Power BI and the Microsoft O365 environment to expand the depth and breadth of its financial data visualizations, he says.
"We have implemented the most robust operational and financial tools available in the trucking industry, providing visibility into what is happening within the fleet at all times, creating opportunities to create greater efficiencies, ultimately driving profitability," Meares says.
AFN Logistics
The Chicago-based 3PL that specializes in supply chain fulfillment for major retailers is using technology to thrive in the pressure chamber of e-commerce.
AFN Logistics shares real-time visibility of its shipments with customers using a platform from FourKites that automatically captures shipment locations from the carriers dispatched on its loads.
In addition to having real-time shipment visibility, AFN Logistics has proprietary tools for sharing available capacity. Its customers use an interactive map on its website to find additional capacity in their lanes.
"Everyone is striving to find trucks," she says. "As a 3PL, we are the bridge between shippers that need dedicated capacity and carriers that can provide exceptional service. We capture capacity by leveraging our relationships that our carrier procurement team has built with best-in-class carriers throughout North America."
In the near future the company will be using technology to more quickly and effortlessly identify capacity in its network. "We're working on solutions that will bring automation to that process," she says.
AFN Logistics, recently acquired by GlobalTranz, has developed other proprietary technology for matching freight in its network with carriers to offer them consistent two-way traffic in preferred lanes, she says.
During the CCJ Solutions Summit, Nov. 18-20 in Scottsdale, Ariz., Paredes from PS Logistics and Meares from Crestwood be participating in a panel of technology experts that will discuss new technologies they are using to sharpen their edge and create a data advantage.