Military aircraft, delivery drones and rockets are piloted from control centers located hundreds or even thousands of miles away from the scene. Trucks can also be operated remotely, and the technology that makes it all possible is ready, said Amit Rosenzweig, chief executive of Ottopia.
Current laws require qualified drivers to be at the steering wheel when vehicles are on public roads, but the opportunity to "teleoperate" trucks on private roads and at private facilities is "right here, right now," he said.
Rosenzweig spoke with CCJ on Wednesday, October 2, from Israel where Ottopia is headquartered. The company has developed teleoperations technology that can be used by fleets to remotely control "everything that is non-autonomous equipment," from forklifts to tractors and trucks, he said.
He founded Ottopia in early 2018 after leaving the automotive industry where he specialized in developing video compression technology. Prior to that he spent 12 years in the Israeli defense force working on technology that intercepts enemy missiles. He also spent time at Microsoft where he developed a cybersecurity product for enterprise customers.
"I know a lot about large, complex systems that must work at all times," he said.
Some of the company's first customers are in the forestry industry, where it is often safer for drivers to operate vehicles remotely because of the hazards of mountain roads.
The company is interested in the trucking market and its technology is easy to use, he said. Companies will likely not be using the technology to replace drivers, but to make their drivers remote operators, he said.
Reducing dwell time is one possible use case for its teleoperations technology. Instead of drivers operating vehicles to move equipment around at logistics facilities to get loaded or unloaded, for example, they could perform these functions in the office.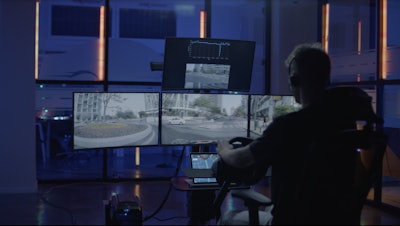 Since not all trucks at a logistics facility are moving at the same time, a company could have one driver operate multiple vehicles to load and unload them at docks. Drivers could then be dispatched to vehicles when equipment is ready to leave the premises, he said.
One of the key benefits of teleoperation is it does not require Level 5 technology for autonomy, he explained. Rather than install expensive equipment on a vehicle to make it fully autonomous, Ottopia uses between six and eight cameras on a vehicle to get a 360-degree view. Off-the-shelf cameras can be used to lower the cost, he said.
The cameras are connected to cellular modems, and Ottopia developed software that compresses the video from cameras and secures the data transfer to the office.
Ottopia also developed software and an external gateway that interfaces with the vehicle canbus to remotely control the vehicle's steering, braking and throttle systems. To control the steering, the vehicle must be equipped with electronic steering, which is starting to become available on heavy-duty vehicles.
The company has an aftermarket kit, but the Holy Grail is to be embedded in trucks from the factory, he said. To this end, Ottopia recently began to collaborate with the world's second largest Tier 1 supplier, DENSO, to build an automotive grade product that can be installed at the factory by OEMs.
For the user interface in the office, Ottopia says fleets have a number of options. They could use a steering wheel and pedals for a video game console, for example. They could also recreate the cabin of a vehicle and use life-size controls.
The company is already in negotiations with several port operators as well as transportation and logistics companies who are interested in deploying the technology, he said.
The price varies depends on volume, but generally if a truck already has electronic steering the cost to implement the system could be under $1,000, he says.