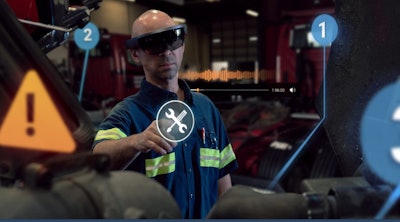 Trucking has a talent problem, but it's not one unique to the highway. It's not even unique to certain segments of this industry. Some fleets can't find and keep drivers. Some carriers can't find and keep technicians.
Parents have spent the last few generations emphasizing the importance of a college education, and colleges have turned out recent graduates – loaded with debt and various directionless degrees – in record numbers.
"What we're experiencing is a skilled workforce shortage," Altec Service Fleet Optimization Manager Ken Calhoun said at the American Trucking Association's Management Conference and Exhibition in San Diego. "We've created the idea that people that make things or repair things … or deliver things are somehow less-than. Members of the lower classes."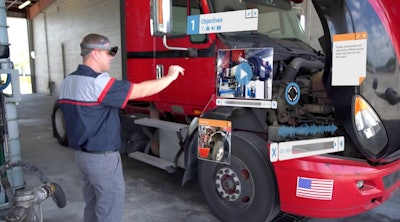 Calhoun is a champion for the return of the blue collar employee and their importance, and bristles at the idea that trade schools are simply soft landing spots for students not smart enough for a bachelor's degree.
"The complexity of the equipment we deal with today demands talent," he said. "It demands skill."
Work isn't always supposed to be fun. If it was, it wouldn't be called work. It would be called fun.
But commercial transportation has an image problem – the perception that its jobs are hard, manual and dirty. About 13,000 students complete technical training each year, while needs in the service department hover around 30,000 bodies – 4,300 new positions are created and the need to replace 25,000 who leave the industry.
With a high number of retirements and turnover, there is an urgency to transfer that native knowhow.
"When somebody leaves, they take their knowledge with them," said Matt Johnston, division head commercial solutions at Design Interactive. Johnston joined Calhoun Sunday in a discussion about AR/VR's potential in maintenance training.
New techs enter the industry unfamiliar with parts and sensor, and their access to mentors is limited. There are literally thousands of fault codes to diagnose and learn, new technologies move quickly and veteran techs don't have time to fix truck and hold training. These are realities.
Enter Augmented Reality and Virtual Reality.
Gamification strategies have already been deployed in driver training efforts but are beginning to filter into the service bay. AR/VR empowers people to learn and train anywhere at any time and is now more accessible than ever. It's ubiquitous and, at a few hundred dollars per headset, is relatively inexpensive.
"The biggest companies in the world are making massive bets that this is going to enter the workforce," Johnston said, noting Boeing has been assembling wiring harnesses using Google Glass for many years.
The Technology and Maintenance Council is looking to soon launch an app-based game based on its SuperTech competition, which will serve as an informal introduction to many of just how complex trucking technical work really is.
"AR and VR are prime are prime tools to teach tech savvy youth," Calhoun said.
But it's not just a toy to keep your kids quiet in the backseat. From a training perspective, AR/VR can be used to not only standardize training, but also make it portable. No longer would a product expert be required to deliver hands-on training to a constantly rotating crowd of faces. They would be involved in developing the AR/VR content, which could be emailed or downloaded to anyone who needs it whenever and wherever they want it.
Take, for example, diagnosing the 13 types of tire wear. Wear patterns are required for hands on training and 2D pictures are insufficient. There's cost associated with traveling to the tires or having them shipped to a facility. Suppliers face challenges in providing training that not all of a given workforce can break free, requiring additional follow up or subsequent visits.
AR could replace all those tires with virtual copies and be distributed electronically to all would-be trainees.
During a Beta test with an unnamed fleet, Johnston says technicians with no experience using AR/VR in training used the platform to learn how to align collision mitigation sensors – something they also didn't have any experience with. He said after the initial training, each technician successfully completed the actual task manually and 90% said they would recommend virtual training as a viable method for learning.
Calhoun said TMC is also looking into using AR/VR as a potential delivery vehicle for its Recommended Practices, which would be quite a leap in standardizing excellence in maintenance.
Can you imagine a day where rather than flipping through a TMC bulletin for proper brake chamber maintenance, you simply upload it to your VR headset and you are walked you through the process that was developed through TMC's study group experts? That's the kind of cutting edge tech that will attract bright, tech savvy talent to this industry in droves and will keep standardized training in-house regardless of your turnover rates.