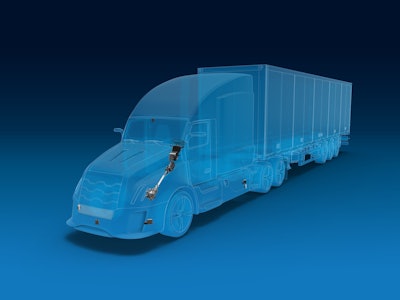 ZF announced Sunday at the North America Commercial Vehicle Show in Atlanta plans to roll out its OnTrax driver assist platform with an OE partner next year.
OnTraX Lane Keeping Assist (LKA) uses a forward-facing camera to find lane markings. Once the system determines the truck is within its lane and traveling 40-plus mph, the system activates. If the tractor begins to drift out of its lane without the turn signal activated, the system offers a gentle counter steer – a series of light nudges – to inch the truck back into the appropriate lane.
OnTraX offers further capabilities with the addition of short-range radar, including lane change and city drive assist. The side-mounted short-range radars offer blind spot protection. When integrated with ZF's ReAX electrically assisted steering, the system can be programmed to deliver a haptic warning to the driver upon approaching an obstacle or vehicle in their blindspot.
The commercial launch of OnTrax in 2020 will also coincide with the debuts of ZF's next generation ADAS sensors. Dan Williams, ZF director of ADAS & Autonomy, said the upgraded sensors offer "a wider field of view, wider range and better resolution."
ZF Vice President of Commercial Vehicle Technology Tom Bozek noted the company will invest $13.9B in autonomous driving and e-mobility over next 5 years.
Also next year, Bozek he expects ZF to close on its acquisition of Wabco, marking capability for the company to become "a full system supplier."
ZF will also start production on its 8 speed transmission, Powerline and expects a rollout to commence for 2021 with an OE partner. Powerline can be paired with a wide range of vehicle classes, starting at Class 3 all the way up to class 7 and Baby 8 and supports engine ratings of 1,000 lb-ft and vehicle weights of 57,000 lbs.
With a compact 8-speed gear set, ZF Head of Truck & Van Driveline Technology North America Christian Feldhaus, said provides a best-in-class power-to-weight ratio and optimally spread gears enable up to 30% faster acceleration compared to conventional 6-speed transmissions. An edge twin- torsional damper torque converter, Feldhaus said, enables more than 10% fuel efficiency improvement and therefore significant greenhouse gas emissions reduction compared to today's 6-speed transmissions.