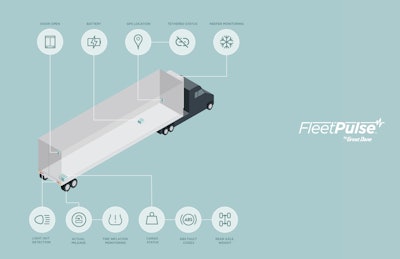 Great Dane on Sunday unveiled its new integrated smart trailer telematics system option at the 2019 North American Commercial Vehicle Show Sunday.
After three years in development, Great Dane's Director of Business Development Mike Molitor said FleetPulse provides a high-resolution look at the condition of trailer components, and pairs that information with other proprietary information about the asset, including specs, aftermarket parts numbers, and tools from all of the component suppliers.
"This journey kind of started with pre-trip and post-trip inspections and how to drive down maintenance costs," he said.
FleetPulse, part of a monitoring chain with GROTE's Guardian and Wabco's ABS, features built-in sensors that collect precise measurements directly from the trailer's components and monitor key indicators like tire inflation systems, open doors, cargo weight, burned-out lights, ABS fault codes and mileage.
The data is collected and reported via 4G signal, so fleets are alerted to potential issues and receive reports on what maintenance needs to occur and when. The integrated platform, Molitor said, eliminates the need to for fleets manage several telematics suppliers, integrate various sensor manufacturers or manage multiple invoices.
"The platform and sensors are hardwired, so they're reliable and accurate from day one," Molitor said. "And the architecture, both on the physical trailer as well as the architecture of the data protocols flowing throughout the trailer and up to both the cloud and truck, are the reasons that an integrated solution like FleetPulse – built at the OEM level – is the only way to provide fleets with the clarity and insights needed to support and grow their operations into the future."