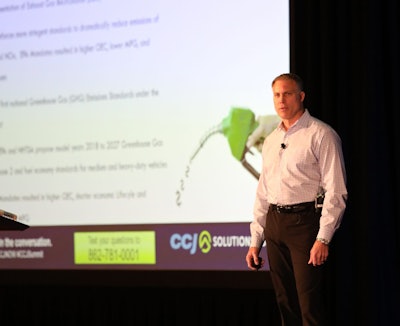 Evaluating the truck makes and models that best fit a fleet's operation – and drive the best cost of ownership – can be a long and arduous process, but knowing when to sell or trade that equipment can be just as important.
Advancements in new trucks have made studying trade cycle critical for carriers looking to maximize their investment.
Al Barner, Fleet Advantage senior vice president of strategic fleet solutions, who spoke at CCJ's Solutions Summit in Scottsdale, Arizona, Tuesday, is a proponent of shifting from functional obsolesce – "how many years could I run this truck?" – to economic obsolesce, or "how many years should I run this truck?"
"Once you get beyond that warranty period," he said, "you start to invest money in trucks that you'll never get back. Once you sink that money into that asset, you're almost forced to run it until you get that money out."
Equipment age, for example, Barner said pulls down fuel economy, and "we consistently see an upward trend in fuel economy (each model year)." In fuel economy alone, fleets can save upwards of $910 per truck per month from 2013 model year to 2020 over a 70,000 mile period, he added.
The biggest opportunity for savings, Barner said, is in maintenance expense, which can climb upwards of nine-times from year one to year seven of the truck's lifecycle. Over 500,000 miles, maintenance can make up 11% of the truck's total cost – the third largest percentage behind fuel (61%) and depreciation (25%).
All-in savings from a 2014 model year to 2020 model year truck is more than $21,000 per year, Barner said – about $17,000 of which comes from reduced maintenance and repair costs.
"When you get to that threshold of warranty, your costs go up," Barner said. "Shorter asset lifecycles are proving more cost-effective toward an organization's bottom line."
While run costs are mostly consistent under the truck's warranty period, Barner said extended warranties aren't a magic bullet solution and suggested they be evaluated on a per-unit basis.
As newer and more sophisticated technologies are heaped on trucks, even fleets who provide service in-house may not see meaningful maintenance savings as units age.
"10-15 years ago, you knew what you had with a truck," Barner said. "I don't know if that's true any more. Technology is more and more complicated … if you have your own shop, are you comfortable with your technicians fixing a safety component?"
The timing of when to dispose of a truck doesn't rely solely on its maintenance schedule and fuel consumption. It's position on the balance sheet also comes into play, Barner said.
Barner noted the selling price of a 7 year old truck is currently the lowest it's been since 2010, but there's been a 3% increase on 3 year old trucks. To sell trucks in a 3 to 4 year old windows for their assessed value on the balance sheet, Barner said, "you have to be really good at re-marketing trucks."