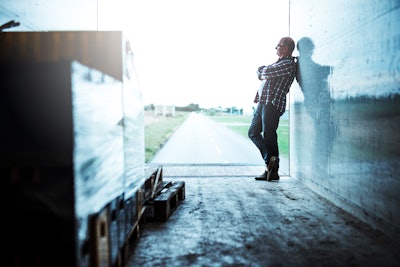 Last year was a banner year for trucking by almost every meaningful metric. But despite trends that indicate most drivers made more money in 2018, the results of a survey conducted by CCJ this summer indicate drivers don't feel remarkably different about their jobs than they did two years earlier.
In CCJ's 2017 What Drivers Want survey, slightly more than half (53.2%) of surveyed drivers were mostly satisfied with their jobs and their ability to pay the bills. Just more than 31% noted a "good" career path, indicating they expected to make more money each year.
Another 15.5% were ready to get out of trucking altogether.

What Drivers Want
Glean valuable insights from CCJ Surveys to find out what drivers want from your fleet.
In the full survey, you'll see what drivers think about:
Pay (what they are getting
and want to get)
Why they switch fleets
Family life and home time
Miles/Loads
Equipment and truck features
Two years later, in our most recent survey, the percentage of fairly satisfied drivers was mostly unchanged (54%), but the number of drivers who felt good about their long-term prospects behind the wheel jumped to 35%, while drivers ready to find another job dropped to 11%.
Getting paid
The top end of the driver pay scale – those pulling in more than $100,000 annually – held firm at 12%, with leased owner-operators (27% of overall top earners) taking the lion's share in 2018. The middle group of earners grew decidedly over the last two years, while the population of the lowest-earning drivers shrank by nearly a quarter.
Only 4% of surveyed company drivers laid claim to earning six figures in 2018, but the drivers who earned $75,000 to $100,000 jumped 5% to 25%, up from 19.9% two years earlier. The $50,000 to $75,000 bracket grew nearly 6% to 45%, up from 39.1% in 2016.
The number of drivers earing $35,001 to $50,000 shrank nearly 8% — down from 27.8% in 2016 to 20% last year. Drivers who earned $35,000 or less dropped from 9.2% in 2016 to just 6% in 2018.
Despite a year in trucking that saw more than half its industry segments post double-digit revenue increases, 44% of surveyed drivers expect to make about the same money this year as last, with another 27% expecting to make more. Meanwhile, 30% expect to see a drop in pay.
Paying the bills
However, even after considering all the positive pay trends, paying bills each month was the top concern (38%) for survey respondents.
Stresses and challenges led 33% of respondents to indicate they would like to get out of trucking, while another 12% said they'd like to stay in the business but get out of the driver's seat — the same percentage of drivers who said they would like to buy their own truck and become an owner-operator.
"They give the older, more experienced drivers harder runs and the younger, more inexperienced drivers easier runs so they don't quit," said David Goberish Jr., a leased owner-operator with Supreme Auto Transport. He grew up in the business and added that after more than 20 years, he's ready to move into a non-driving job with a carrier. "Why should I work harder for the same money?"
Even though 34% of respondents indicated they were happy with their future in trucking as long as they see annual pay increases, drivers at the top end of the pay scale find there's a delicate balance between maximum profits and minimum home time.
Darlean Hodges, a leased owner-operator with Hodges Transport, was always drawn to the open road and expects to make more than $100,000 this year. But money isn't everything.
"Dealing with stress, anger and loneliness" was noted as Hodges' top concern, and after less than five years in the cab, Hodges was ready to stop trucking.
"Not completely just doing something other than driving, but still in trucking," Hodges said.
Adding to that level of stress were Hodges' two other top concerns: home time and paying bills.
"Nobody wants to live this lifestyle anymore," Goberish added. "If you work only 40 or 50 hours a week and be home to have a life, that's what would keep drivers. But it's not economical for fleets to pay a wage that you could have a life on and still make a living."
Lack of respect, home time
Drivers cited inadequate pay (72%) as the biggest reason carriers struggle to find drivers. Next, at 64%, is that drivers didn't feel they had the respect of their employer and didn't feel part of the team.
Goberish notes narrowing drive-time windows have had a negative impact on trucking as a whole.
"No respect, even between drivers, because of the clock that tells you what to do," he said.
Lack of home time was the third-most-cited reason carriers have a hard time finding drivers with 60%.
Walt Sanders said a career in trucking was a job of last resort for him. "I had two boys to feed," he said. But after more than 20 years OTR and 150,000 miles last year, he said he'd like to get out of trucking, citing more home time as the primary reason.
No support, miles, career
Lack of a support system in dealing with shippers and daily misadventures (58%) was the No. 4 reason cited by respondents as to why carriers have trouble finding drivers. Rounding out the Top 5, with a tie at 31% each, was a lack of miles/loads and absence of a career path.
These also were the top reasons cited two years ago, in virtually the same order.
The bulk of respondents drove between 75,001 to 100,000 miles (27%) to 100,001 to 125,000 miles (26%) last year — figures that are mostly consistent with 2016. Mileage across the board is fairly comparable between the two years with the exception of the number of drivers logging 25,000 miles or less, which dropped 2% from 2016 to 2018.
The number of company drivers who have been in trucking more than 20 years jumped in 2018, up to 61% versus 57% two years prior.
However, growth in the "20 Year Plus Club" came at the expense of drivers with between 16 and 20 years of experience, as that group slid from 13.2% in 2016 to 11% last year. Tenure at every other milestone retreated at least marginally over the two-year period.
Virginia Harlow, a now-retired Cedar Rapids, Iowa-based company driver, noted trucking also was a job of last resort, and after retiring three years ago – concluding a 15-year career – it's been difficult to return part time.
"26 years experience in a machine shop meant nothing in 2001 here in Iowa," Harlow said. "I retired in 2016 but still have a valid CDL-A. I can't even get a part-time driving-locally job. Clean record doesn't count?"
When to retire?
Despite the lack of a youth movement in trucking – and growth among the population of the industry's oldest drivers – 52% of respondents didn't know when they would retire.
Only 10% planned to retire within the next year. Of those who don't plan on retiring, 42% said they needed the money. Another 14% said they needed to maintain their benefits.
"ESOP and 401(k) will be a big help," said Craig Bailey, a driver for Advance Draining System (ADS).
"I have it in my will to be buried in my truck with a full tank of fuel so I'm ready to go to work on the other side," joked Jordan Hutter, a driver for Power Source Transportation. "The way the government is going, there's probably not going to be anything in Social Security."
Only 22% of respondents say they've saved enough money to retire. The other 78% either haven't (64%) or don't know (14%).
"I worked for Teamster companies for 30 years and received 26-and-a-half years of retirement benefits," said Steve Hearne, a retiree turned part-time SM Putnam driver. "I also put money in an IRA. I suggest everyone put some money in a retirement fund. Pay yourself first."
Among company drivers, 55% said their carrier offered a retirement program, while another 43% said one was not available.
Saving for retirement was the No. 3 concern cited by company drivers. Owner-operators ranked home time/family life No. 3, just ahead of retirement.
Perks and regulations
For fleets that can't pay top-dollar or fund a retirement package, there's still a clear path to driver satisfaction: Driver comfort. A special, more comfortable driver's seat (69%), an auxiliary power unit (60%) and a late-model truck (55%) with a large sleeper (53%) rated with the majority as features that are important to drivers.
To little surprise, a clear majority (40%) cited regulations as the thing they dislike most about their jobs, although it was a bigger problem for owner-operators (48%) than company drivers (35%).
"The 30-minute break rule just makes my day longer," ADS' Bailey said. "It's of no benefit."
"ELD logs have made drivers unsafe," added Luis Gomes, a driver for El Paso, Texas-based Russell Transport. "Lying in bed three to four hours waiting for the 10-hour break to complete, then driving tired. Taking 30-minute breaks when I don't need it. Drivers killing each other for truck stop parking locations."
Raised on a farm and with a high school education in-hand, 20-plus-year career trucker Gerald Sparacino, of Louisiana-based Sparacino Trucking, said he was drawn to the industry for its "decent salary back then" and its freedom, but regulations have changed all that.
"I am too old to do anything else now," he said. "If I had to do it over, I would definitely choose another career. Since I am an old-school driver, this electronic logging system is nothing but B.S. To me, it's all about control. I am not a robot. There needs to be flexibility in how you can drive. Why are all the regulations aimed at big trucks, and cars can do anything?"