This is the second of a two-part series that looks at commercial truck insurance and how carriers can influence their insurability and affect their rates. Part 1, "Rise in truck crashes, large payouts, expected to boost insurance renewal rates this year," can be found here.
While some decry mandated electronic tracking as counter-productive, others like Doug Schrier, vice-president of product and innovation at Transflo, believe that ELDs can improve a fleet's bottom line in the long run.
If so equipped, ELDs can go beyond simply logging driver hours to keeping track of driving habits including speeding, hard braking, hard cornering, rapid acceleration and improper lane changes.
"We always look at safety. Safety first," Schrier said. "What are the things they're doing with risk reduction especially with ELDs? There could be a whole bunch of events that will let a fleet see abnormalities within their drivers' behaviors. Which one of their drivers are the most at risk? Or having the most number of near misses? That's a big piece that I think a lot of fleets may be missing."
Schrier said insurance companies are increasingly turning towards technology to help with more thorough risk assessments.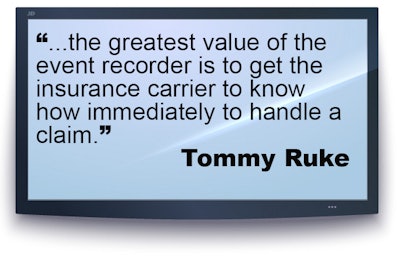 "They're using the data to determine the risk of that fleet over another and if you're deemed to be a riskier fleet, you're ultimately going to pay more for your insurance than if you're deemed to be a less riskier fleet," Schrier said. "We have also seen some companies in the insurance space play a much more active role by strongly encouraging that they have a certain kind of ELD that provides them the data that's needed. They're encouraging fleets to proactively interface with their drivers that are on the riskier side of the fleet, kind of driving toward camera solutions within the cab of the truck. Our telematics system, one thing that it does, because of the sensitivity of it, is that a truck can be in an accident and a forward-facing camera in front of you does a lot in mitigating that risk."
Tommy Ruke, founder of the Motor Carrier Insurance Education Foundation, said fleets would be wise to invest in camera event recorders.
"It's crazy that a motor carrier doesn't have an event recorder," Ruke said. "I understand the privacy issue, but that's for training purposes. What they don't understand is that the greatest value of the event recorder is to get the insurance carrier to know how immediately to handle a claim. There's actually more cost savings when we find the motor carrier is at fault than when they're not at fault. Because if they are at fault then we don't fight it. We don't hire attorneys. We don't pay the $700. We don't do the reconstruction with claim. If we know we caused it, then we don't pay all that extra cost."
Smith Transport, a truckload carrier with headquarters in Roaring Spring, Penn., is in the process of installing a video-based driver safety and telematics system from SmartDrive in its fleet of more than 800 tractors.
Driver trainers at Smith Transport review event video and data when drivers show risky behaviors such as speeding or rapid deceleration (hard braking). They coach drivers on areas they need to improve. With this proactive approach to safety, the company does not expect to see much of an increase in insurance premiums for its next policy renewal.
"Technology such as this helps to tell the story to the underwriters of how important safety is to us, and what we are doing as a company to ensure that we can reduce frequency and severity of accidents," says Eric Nelsen, vice president of safety and driver recruiting. He expects the technology will also lower the fleet's CSA scores.
In mid-2018, Mike Turner, vice president of Toledo, Ohio-based DF Carrier, began shopping for a new mobile fleet management system. One of the requirements was that it have a camera to record safety-critical events.
Creating accountability for drivers was the main goal for evaluating technology. "We are trying to change the culture for drivers here," he says.
Turner soon learned about a system from Samsara.
"I saw they brought a lot to the table," he says. DF Carrier has been using Samsara for over a year in its fleet of 50 tractors with dry van, reefer and flatbed trailers. The system has forward and driver-facing cameras.
Samsara has a feature, Safety Inbox, that immediately notifies fleet managers at DF Carrier when safety-critical events occur. Managers can view the video immediately to determine if the incident was the driver's fault and provide counseling and coaching as needed.
"When you start calling drivers out when they do have issues, they know we are paying attention. Before, that wasn't happening. They were getting away with what they wanted to," he says. DF Carrier also uses electronic logs from Samsara, which give dispatchers visibility of when to contact drivers for coaching sessions to avoid disrupting their breaks and sleep.
When it came time to renew the fleet's insurance policy in October 2019, Turner was expecting to see a drop in premiums based on the results the company achieved in the past year. He presented his case to insurance companies, emphasizing the strides made since putting a structure in place to change the culture of the company to accountability, and putting out the safest drivers on the road.
The fleet's insurance policy renewal went from $14,000 down to $7,500 per truck. For the fleet of 50 trucks, this was an annual savings of $325,000.
Crash mitigation is another technology that Turner credits for improved safety. Some of the new tractors at DF Carrier have the technology. The fleet had zero rear-end accidents in the past year.
Transflo's Schrier agrees that having quick access to video evidence following an accident can prove advantageous.
"Our fleets are able to go in there to the portal and usually get access to that accident reconstruction view and determine how to mitigate that cost," Schrier said. "If they perceive themselves to be at fault there's been a lot written about how to accept fault and mitigate that accident sooner than later. Bringing it to court is just going to drive up your cost. Or, if they're perceived to not be at fault a lot of these fleets don't spend a significant amount of time subrogating against the claimant—the person that was at fault at a cost to the fleet. And ensuring that the accident does not count against them both from an insurance standard and then from a CSA standard as well. Both of those are really important to ensure that a fleet knows how to handle those."
While increased technology can prove helpful in reducing risk, getting fleet-wide buy-in is critical in leveraging the benefits. When asked if ELD tampering was a problem among truckers, Florida Highway Patrol Trooper Bobby Simmons quickly nodded.
"And they'll sit there and tell you that they don't mess with it," said Simmons, who's been inspecting trucks the past 10 years. "The ones that I've caught I've told them, 'I don't understand why you would even risk this.' Their response? 'What do you mean? I'm not making enough money by this ELD.' I said, 'If you just let this thing do what it's supposed to do and not worry with it, just keep track of your hours, 11, 14, your 30-minute break, I said you shouldn't have any issues.' They respond, 'Well, it just makes us run harder and harder.' Well, they used to do the same thing with the paper log book. The only difference now is that whenever that truck moves it's going to put you on duty as driving."
Simmons explained that drivers can enable their ELDs to run in yard mode so that the time spent there is not counted against their hours. Still, some drivers can't overcome the temptation to yank the plug which can lead to fines and a higher CSA score. He recalled one driver who claimed that he didn't know that a loose wire hanging from his dash was intended to power his ELD.
"As soon as he plugged it in the box came on. The phone connected," Simmons said. "So I started looking at different things on it. It showed that he was somewhere in Mississippi. And then five minutes later it showed him somewhere near Birmingham. I said, 'You're pretty good.' I placed him out of service for no ELD and falsifying. He was unplugging it thinking that it wouldn't do what it was supposed to do. It also puts him in violation of the 14-hour rule."
Donald Broughton, principal & managing partner of Broughton Capital, said when used properly, ELDs can improve a fleet's bottom line.
"They may blame the ELD when the vast preponderance of people using ELDs have been able to—after getting through the learning curve—use them effectively to increase utilization," Broughton said. "You can blame them all you want, but that's the symptom, not the root cause. ELDs did initially shrink capacity, but I said it for a couple of years—you can go back in your own publication and see it—I said that this is not going to be the disaster everybody expects because calamity well anticipated seldom is, one. Two, the visibility will more than offset whatever loss in productivity there is."
Avery Vise, vice president of trucking at FTR Transportation Intelligences, advised investing into technology where it makes sense.
"It's always a good use of money to invest wisely in technology," Vise said. "It's just I think that the important takeaway is that if you're not having accidents where you're rear-ending cars—if you have a safe driving force as it is then investing in technology to stop one crash every five years or whatever, you have to think about if that makes sense or whether just slightly more emphasis on defensive driving as your better option."
In addition to incorporating risk reduction technology, Ruke said pairing up with an agent who truly understands the trucking industry is key to assessing and protecting against risk.
"You see now where we've got some insurance companies now that are marrying personal autos, like Progressive's Snapshot. That's coming to trucking. That's going to be next level to allow these trucking insurers to have your electronic log devices information because that's where you're going, the miles you're driving and how you're driving—speeding or not. That's coming, but we don't have anything right now that can be put in a formula to put a dollar savings on it up front."
In the meantime, Ruke advised teaming up with an agent that truly understands the trucking industry.
"My message is that in this whole market the motor carrier needs to go to insurance agents who understand their business," said Ruke. "I can give you the ones who go through our program, the Transportation Risk Specialist designation, who can help them be a better risk."
– Tom Quimby contributed to this report.