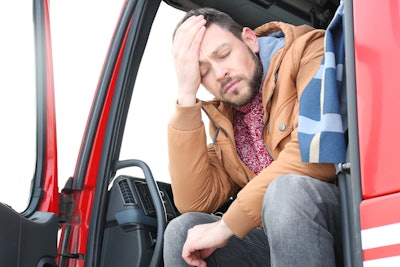 Nearly 40 years ago, mileage replaced weight as the top-used valuation for freight rates after the Motor Carrier Act of 1980 opened the floodgates of competition.
The Interstate Commerce Commission (ICC) no longer granted carriers operating authority for lanes with rate structures based on the poundage or "hundredweight" by freight type.
The next seismic shift came in December 2017 with the Federal Motor Carrier Safety Administration's electronic logging device (ELD) rule. In an instant, time leapfrogged mileage for rate valuations. Shippers and third-party logistics (3PL) firms began buying the driver's time, not mileage.
"We are in the distance business, but our productivity is in time," says Lamar Quinn, general manager of R.E. Garrison Trucking, a truckload carrier based in Vinemont, Ala. Quinn argues that time has always been the true valuation of transportation and logistics services.
The ELD mandate brought time to the forefront of rating but he sees room for improvement. "We are not totally into a time-billing business yet," he continues.
The industry is moving in this direction now that ELDs are tracking driver hours-of-service by the minute and capturing excess time they spend on loading and unloading events. Although carriers and logistics providers have the technology and data to capture and bill their customers for detention, preventing it altogether is a more desirable outcome.
The Transportation Intermediaries Association (TIA) shared the following case study with CCJ based on interviews it conducted with shippers, 3PLs and motor carriers. The study found that all parties who were interviewed view detention as an opportunity to establish and execute policies that remove it as a friction point in freight transactions.
Better or worse?
Has detention improved or become worse since the ELD mandate? The answer depends on who you ask, the study found.
By many accounts, the booming freight economy in 2018 tightened capacity and helped motor carriers and 3PLs address detention issues with shippers. Gains that were made on this front may have been lost in 2019 due to the softening freight market. According to one study, detention did not improve even in 2018.
Results from a detention survey by the American Transportation Research Institute (ATRI) taken by drivers and motor carriers in 2014 were compared to a repeat survey in 2018. Responses for the 2018 survey came mainly from drivers. ATRI concluded that "customer facilities have not made real improvements to their staffing, processes, accuracy or efficiency across the four-year time period."
John Miller remembers his customers promising to pay detention charges after ELDs became law. That commitment has since loosened in 2019.
"Now it is kind of like we are fighting for [detention pay] as carrier or 3PL," says Miller, managing partner of Plains Dedicated, a Champions gate, Florida-based asset and non-asset transportation provider that specializes in refrigerated freight and multi-drop shipments.
Tim Staroba, president of refrigerated carrier Navajo Express, agrees that detention has not improved.
"I've been doing this 26 years, and customers are getting worse and worse about trying to get you in and out of their doors, and they don't want to pay for any of it," he says.
Navajo, based in Denver, operates more than 1,000 trucks and provides refrigerated and dry van truckload services. In the highly competitive and fragmented trucking industry, many carriers and brokers are still willing to accept detention to win new business, he says.
"As an industry we've kind of done it to ourselves," says Staroba, who warns that ultimately shippers will pay for detention one way or another by carriers adding detention charges to freight invoices or building it into their rates.
Companies that transport refrigerated loads tend to have a more negative experiences with detention than other freight sectors. Length of haul (LOH) also makes a difference. Carriers and 3PLs with an average LOH greater than 500 miles typically have at most one detention event per day to load or unload. Those with shorter hauls often have same-day pickups and deliveries, where detention is a bigger factor since it can happen on both ends.
Measuring detention
One area where most parties agree about detention is that it should be a billable event after a period of two "free" hours. Carriers and brokers say that shipper policies dictate how they validate and bill for detention.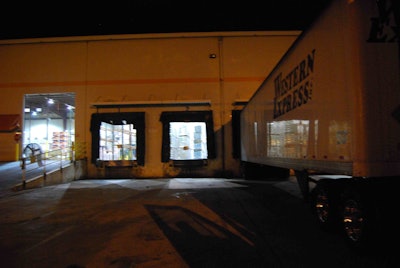 On March 15, Del Monte Fresh changed its detention pay policies from paying after three hours to paying after two hours. By making the change, the company saw labor costs increase to more quickly get trucks in and out of its facilities.
Overall transportation costs went down, however, by paying less detention charges and getting more favorable rates, says Robert Savage, vice president of transportation and logistics of Del Monte Fresh.
"It forces the wrong action when you set parameters in a manner that allows people to take their time since it is not costing them any money, but it really does," he says. "It costs the truck money and increases rates."
Nearly all the domestic freight for Del Monte Fresh — about 15,000 shipments of fresh produce per month — are transported in refrigerated trailers. Carriers pick up loads at warehouses at five ports in the United States and deliver to distribution centers or directly to its customer locations.
Shippers, carriers and 3PLs are using a variety of methods and technologies to capture and verify detention charges in an efficient manner.
Heatcraft Worldwide, a manufacturer of commercial refrigeration units, writes down the time drivers arrive and depart on the BOL. Drivers sign off on the time shown when they leave its facilities to verify the accuracy.
If detention occurs after two hours, Heatcraft automatically pays its 3PL that manages transportation for all its truckload shipments. If carriers are detained at Heatcraft's customers, the company's policy is for the 3PL to send a notification 30 minutes before detention starts.
With this notification, the company works quickly with its customers to resolve issues and avoid detention charges if possible, says Alicia Whiteside, transportation analyst for the Stone Mountain, Ga.-based company.
Del Monte Fresh implemented an automated time tracking system at its largest port facility in Gloucester City, N.J. When drivers arrive for a pickup they receive a pager at check in to track the time drivers spend on site. The arrival and departure times from its pagers are printed on the bills of lading when drivers leave.
"We measure every single driver that comes in," Savage says. Any detention charges that carriers submit have to be tied to the official check-in and check-out times on the BOL.
Club Chef, the fresh-cut processing division of the Castellini Group of Companies, places a tracking device in trailers of motor carriers to capture locations, temperatures and arrivals and departures at its shipping facilities. Before detention occurs, the company knows which loads are behind schedule to get loaded or unloaded. With this visibility it can proactively resolve the situation or pay carrier detention charges, says John Adams, director of transportation.
The company purchases most of its product from the West Coast and ships to its processing facility in Georgia for the packaging and distribution to its wholesale, retail and food service channels.
The power of geofencing
Geofencing is a common method used by carriers and 3PLs to automatically record arrivals and departures to identify detention events for billing. Geofencing is a feature of mobile and back-office fleet management systems to create a virtual perimeter around a location to detect when assets cross the boundary.
To ensure that detention is captured and reported consistently, Hoekstra Transportation uses geofencing with a module from its transportation management software (TMS) provider. The module automates all of tasks for detention from communications to billing.
Hoekstra tracks and bills its customers for detention by the minute or in 15-minute increments, depending on the contract, says Steve Hoekstra, president of the regional truckload carrier based in Kankakee, Ill.
In addition to tracking and sharing detention metrics with customers, R.E. Garrison uses the same detention module to report a key metric — the average detention times for each customer by location. It shares this information with drivers prior to the driver arriving for a pickup or delivery.
The pre-notice to drivers sets the expectation. If the actual time the driver is at a customer beats the average, "it's like Christmas," Quinn says. "[The driver] is excited."
On the other hand, if the detention is higher than average, the driver is likely to share the data with the customer on site, which usually "causes some action," he says.
Club Chef has a private truck fleet of 70 power units equipped with ELDs. The company uses geofencing to identify detention events, and the fleet's customer service department immediately contacts the customer to share the details to either get the truck moving or bill for detention, Adams says.
Sharing accurate data does not mean that its customers will always pay for detention, however.
"They want it all one way," says John Adams, director of transportation. "Unfortunately, this really hurts the driver and the industry."
With geofencing, Navajo Express identifies the exact locations of where vehicles cross the property line of customers. The company has geofenced about 90 percent of its customer locations "so we know exactly when the driver is on and off the yards," Staroba says.
Starting at the end of 2020, Del Monte Fresh plans to have an automated system that will take location data from carriers and match it with geofencing at its locations to automatically check drivers for arrivals, Savage says.
Many shippers are now requiring that carriers and brokers subscribe to freight visibility platforms they use from suppliers like Descartes MacroPoint and project44. As a policy, some will not pay detention charges unless transportation providers subscribe to these platforms and share their asset and load tracking data, says John Miller at Plains Dedicated.
Miller and all transportation companies we spoke to say they have not seen improvements in detention resulting from shippers using freight visibility platforms, however.
Managing appointments
Another detention strategy that all parties can agree on is the need to set realistic appointment times and avoid late arrivals at all costs.
Heatcraft Worldwide will not pay detention if a truck arrives beyond 30 minutes late, and detention is more likely to occur in these instances since drivers are sent to the end of the line for being loaded, says Alicia Whiteside.
Del Monte Fresh gives drivers a 15-minute window to arrive after an appointment time before they consider the load late and will not pay detention charges. It modified this policy, effective Sept. 15, to give drivers two hours to make the appointment window to avoid a rescheduling fee of $150.
"We don't want the money," Savage says, but without a penalty, "companies don't care as much." If a carrier notifies that it will be late at least 4 hours out, the company waives the rescheduling fee.
Arriving early for an appointment is another instance where shippers will not pay for detention, or at least not start counting the timer until the scheduled appointment time.
"We always want to make sure we've hit their times," says John Adams, director of transportation at Club Chef.
Some of Club Chef's largest customers do not want drivers to arrive more than an hour ahead of their scheduled appointment, he says, or they are "told to leave and come back." Working with customers to move appointments up when trucks are running ahead of schedule has become difficult as well.
"You used to be able to call and talk to a person and explain the situation," he adds. "Now, everything is online. If we have a certain time we want to hit, you have to request that in their TMS. There is no give and take."
Del Monte Fresh has a policy that carriers not arrive more than an hour ahead of their appointment time to check in. The company loads trucks at port warehouses in order based on who arrives the closest to their appointment times. This practice actually helps prevent trucks from being held up, Savage explains, through better inventory management.
Motor carriers and 3PLs say they have to work closely with their customers to set and reschedule appointment times. For example, a load from Dallas to Springfield, Mo., is a 6 or 7-hour drive. A customer may set a pick-up appointment of 9 am on Tuesday and a delivery appointment at 9 am Wednesday.
"Most of the time customers build in too much time on load so a driver can get there," says Navajo Express' Tim Staroba. "That is not necessary a bad thing," he continues, but to avoid unbillable detention events often requires customer service reps to work the phones and reschedule.
Dropping trailers
A common strategy for carriers and 3PLs to minimize detention is to have drop-and-hook trailer pools at customer locations.
Hoekstra Transportation, a regional truckload carrier based in Kankakee, Ill., has a trailer-to-tractor ratio of 8:1 to avoid detention. The company's large trailer pool is investment in its drivers, says President Steve Hoekstra, to make them as productive as possible.
The company has become selective of the customers it works with to find those who understand the value of time, and in return can provide them with cost savings.
"I think fair shippers understand that," says President Steve Hoekstra. "We see less and less pushback on the detention piece."
Customers can take advantage of dropped trailers and use them as storage space. "That is the bigger challenge for us to have trailers tied up excessively and getting reimbursed for that use," he says. "It takes discipline on our part to make sure we don't let those pools build."
At the start of 2019, Del Monte Fresh started a pre-loading service for carriers at its Gloucester City, N.J. port warehouse. Carriers can drop trailers to use the loading service, for a fee. The company already provides the service at its warehouse in Port Manatee, Fla., and plans to implement the same at its facility in Galveston, Texas.
Scoring shippers
When truck capacity was tight in 2018, motor carriers and 3PLs were able to be more selective of the customers they worked with. Some were focused on building scorecards to measure and rank their customers to create the best network and book of business.
While market conditions have changed, Robert Savage from Del Monte Fresh says the company is continuing to make progress on areas that are considered valuable by transportation providers and drivers when rating its facilities.
The company recently moved a warehouse in Laredo, Texas, to a new location that has a wash facility, drop yards for trailers, scales and 24/7 hours of operation. The new facility reduced spend on detention by 80 percent since making the change, he says.
Navajo Express is working on developing customer scorecards for each shipping and receiving facility that bring together information from many different sources.
"We are working on that and talking about different ways to do that," Staroba says. Factors likely to be included in the scorecard for each facility are deadhead miles to get to the location, detention time, appointment times, and the yield of the different markets loads go to from the facility. Another piece could be how easy the customer is to deal with, he says.
"We will learn how to trade up customers or get them to be responsive for fixing problems," he says.
Although shippers have the upper hand at the moment for rate negotiations, all parties interviewed agree that detention should not be used as a bargaining chip.
John Miller, president of Plains Dedicated, says the company decided to stop doing business with one of its largest customers this year after the shipper changed its detention policy to save money. The shipper used to pay for detention on multi-stop shipments, but now only pays it on the final stop.
Del Monte Fresh's Richard Savage is taking a longer-term approach.
"I do not want to lose good carriers. If they show they are in detention and are having an issue, I am going to pay them," Savage says. "At the end of the day, I need reliable carriers, drivers and equipment," he adds. "You've got to let your walk match your talk."