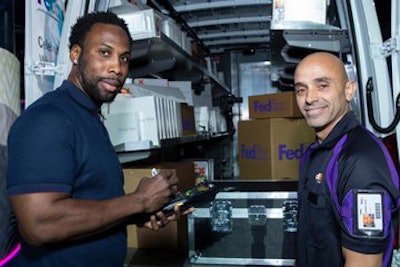 Do inexplicable, weird and random questions ever cross your mind? It happens to me all the time.
Like, "What makes a No. 2 pencil No. 2? Why not No. 1? Or No. 5?"
I'm a big football fan but while trying to digest the unwatchable mess that was the National Football League's Pro Bowl this past Sunday, my mind started to wander.
How does the Lombardi Trophy get to the Super Bowl?
Awarded each year to the winner of the Super Bowl, the Lombardi Trophy is a 7 pound piece of sterling silver made by Tiffany & Co., and is worth some serious coin. The trophy costs about $50,000 to produce, and takes four months and nearly 80 man hours to make. You've got to figure it's handed off to Brinks or Wells Fargo right off the Tiffany loading dock, right? Maybe it's personally escorted by some private security firm.
Nope. The most important prize in professional football has been delivered to Super Bowl hosts by FedEx (No. 2 on the CCJ Top 250) for the last 20 years and was delivered in Miami – by way of New York to a FedEx station in Fort Lauderdale – last week by Lazaro Valle, a Miami Gardens resident and FedEx Express courier for 25 years.
FedEx Senior Vice President of Integrated Marketing and Communications Patrick Fitzgerald noted the annual delivery of the NFL's grand prize is just one of more than a billion deliveries the company makes each year.
Valle was chosen to make the delivery, which was handed over to former NFL wide receiver and Super Bowl champion Anquan Boldin, based on his exemplary safety history. Practically irreplaceable if lost or damaged in transit, the Lombardi Trophy was traced by FedEx's SenseAware platform, which enables the realtime monitoring of shipments, including the parcel's temperature and humidity levels. It even monitors light detection, which would indicate if the package was opened before its arrival in Miami.
Regardless of the stats put up Sunday by 49ers running back Raheem Mostert or Kansas City quarterback Patrick Mahomes, the most important hand off and rush job in the Super Bowl goes to FedEx.