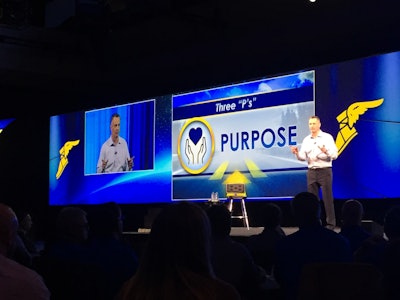 Are you going to throw rocks at new mobility or embrace the inflection point?
It was a question posed by Goodyear CEO Rich Kramer at their recent 2020 North America Customer Conference in Aurora, Colo.
"We could throw metaphorical rocks at EVs and AVs. Or, we could simply just ignore it all together," Kramer told a large audience comprised mostly of business owners and staff who sell Goodyear products and services. "But if we want to participate and thrive through these changes, if we want to be built to lead for the next 120 years just like our founders did, then I'd say let's learn from the leadership of our founders. How did our founders see the possibilities and how did they use the inflection point they went through to their advantage?"
The rock-throwing metaphor stemmed from Kramer's earlier comments about the challenges automakers faced at the beginning of the 20th century as their novel, noisy and smokey machines began rolling out amid the horse-drawn carriages that ruled mobility. In short, it was a collision between two very different worlds.
"When the automobile came out people actually hated it," Kramer said. "They hated it relative to what they knew which was the horse and carriage. They saw cars as dirty and dangerous and out of control because they were going faster than anything they've ever seen before and they were knocking down people as they were going around. Remember, there were no signs. There were no lights. There were no roads. There were certainly no rules for the road.
"Someone once said that one person in a car was responsible for spoiling thousands of walkers' enjoyment of nature," Kramer continued. "Others went around throwing rocks at cars if you can believe that."
Autonomous, connected and alt fuel vehicles have captured Kramer's attention. This year's Consumer Electronics Show in Las Vegas proved especially captivating for the 56-year-old Cleveland native who's been at Goodyear's helm since 2010.
"Usually, what CES is all about is really flat screen TVs, wearables, smartphones, all those things. But now, it's really about mobility—and I might even say connected mobility," Kramer said.
Displays from both Sony and Toyota further fueled his interests in vehicle advancements. Sony's Vision-S, a prototype electric sedan, featured cameras, LIDARs, radar and other gadgets that continued to attract technophiles like moths to a flame.
"You might ask yourself, 'Why did they actually come with a car?' The answer was really to highlight over 30 sensors that they have that are inside and outside the vehicle," Kramer explained. "As they said to create an immersive environment of information and technology for passengers. You see Sony's contention is the body of a car is more akin to the body of your smartphone. They don't look at the car as a hot rod like many of us used to, or maybe still do. They look at the body of a car as a container for connection, for intelligence and for a digital experience. That's a different way to look at a car."
Toyota's display also stirred up Kramer's interest in high-tech mobility.
"Toyota came to CES to unveil—get this—their own city," Kramer said. "They said they're going to build their own city. It's 175 acres, 2000 residents to really serve as a living laboratory for them to see how those residents will live in a world of AVs, hydrogen power, connected devices and all kinds of other ground-breaking technologies. Who saw that coming?"
To help prepare for the changes that lie ahead with new mobility, Kramer recommended that businesses concentrate on planning, partnership and purpose.
Goodyear has been busy embracing new mobility. On display at their trade show at the Gaylord Rockies Resort & Convention Center was an all-electric, autonomous passenger van with Goodyear prototype airless tires. Arizona-based Local Motors, makers of the 8-passenger Olli van, teamed up with Goodyear last year for tire testing.
The 122-year-old company also unveiled its new Complete Tire Management system, which incorporates high-tech sensors and lasers in routine tire assessments that lead to data-rich predictive analyses guided by Goodyear experts that in turn inform fleets of tire performance and help prevent costly tire blowouts on the road.