Fatal accidents that involve large trucks and buses have been climbing.
The most recent Fatal Motor Vehicle Crashes report from the National Highway Traffic Safety Administration shows a total of 2017 fatalities in 4,889. This went up 9 percent from 2016, which was up 5.4 percent from 2015, which in turn was up 4.8 percent from 2014.
Compared to national trends, Titan Freight Systems, a less-than-truckload carrier based in Portland, has had zero fatal accidents in its 51 years of business. The company's property damage incidents were moving with the trend line, however, from 2014 onward.
The number of incidents tripled from 2014 to 2017 and claims costs doubled. In 2018, Titan Freight had 18% fewer incidents although its claims costs rose 22%, year over year.
Titan Freight's management team was concerned the numbers indicated higher fatality risk. Keith Wilson, president, initially believed the increase in highway speeds and decrease in law enforcement budgets contributed to the increase in crash statistics. The type of incidents the fleets was having were not speed related, however.
Drivers were hitting low bridges and awnings while not seeing restricted height limits. They also hit bollards, were having side swipes, and one driver hit a tree branch while talking on the phone with a dispatcher — all were signs of distracted driving, Wilson said.
In January 2019, Titan Freight installed a new technology in the fleet that quickly revealed distraction as a more risky driving behavior than speeding.
Wilson is now running for the Portland City Council with a plan, taken from his own experience at reducing risk, to curb accidents on a local, statewide and national level.
Targeting distraction
Wilson gained insight on the dangers and prevalence of driver distraction when Titan Freight installed the Netradyne Driveri vision-based driver safety system in its 44-truck fleet. Wilson had been looking at camera solutions for three years prior, but the products were "labor intensive and were reactive, not proactive," he says.
Wilson wanted a system that would give drivers real-time alerts for in-cab training rather than have to review video and data in coaching sessions after events occurred. He was also hesitant to use systems that rely on engine and vehicle ECM data, such as rapid deceleration or "hard braking" to trigger safety events.
One of Wilson's primary concerns about relying solely on ECM data was the negative consequences of the Hawthorne effect. Drivers would behave a certain way based on how they are being measured. For example, if a driver knows he will be judged negatively for a rapid deceleration or "hard break" event, he might decide to advance through a yellow light in an intersection instead of stopping. This would create an unsafe behavior in an otherwise safe situation, he says.
The Netradyne Driveri system uses camera vision with edge computing and artificial intelligence to analyze 100% of drive time. The technology visually captures signs, signals, pedestrians and other objects to provide a complete view of driver safety.
When Titan first installed the system, it used the forward-facing camera but did not activate the driver-facing camera. When the company turned on the system in January 2019, management received 62 daily alerts for unsafe driving practices.
The Driveri system gives drivers proactive alerts when they have risky behaviors. The alerts give drivers time to address the problem, such as speeding or following distance, before an alert is tripped for fleet management to review and negatively impacts their driving scores.
In 10 months of use, Titan reduced the number of daily unsafe events by 77% with the exterior cameras enabled. The company also saw immediate improvement when drivers managed their own behavior through the mobile app and from manager coaching.
Reducing distraction risks
As soon as Netradyne released a new feature that automatically detects distracted driving, Titan decided to enabled the interior cameras. The day it activated the feature, management had 45 distracted driving alerts. Within two weeks the fleet saw a 96% reduction in the number of these alerts.
The AI within Driveri accurately captured distracted driving events and the system provided in-cab alerts so the drivers could adjust their behavior. While there was initial concern about retention, "we didn't lose any drivers due to the interior cab cams," Wilson says.
"The drivers really wanted to earn the safety bonus, to do well, and when they saw their distracted driving behavior, there was a lot of buy-in," he says.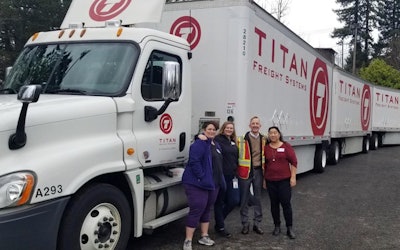 Titan Freight is now 14 months into the system and over two million driving miles. The company has reduced property damage incidents by 39% in 2019, year over year, and its claims costs are down 64%. Upon renewing its insurance policy, the company had an 11% reduction in premiums.
"That paid for the system alone," he said.
Wilson says that if elected to the Portland City Council he will use his safety expertise to help the city invest more wisely in infrastructure and technology to reduce traffic-related fatalities. In Portland, traffic fatalities have been climbing for the last five years despite the city having the highest nationwide rate of speeding tickets, he says.
One way he plans to address the epidemic of distracted driving is by investing in mobile camera systems that can be set up roadside to detect distracted driving and send real-time notices to police officers for ticketing. The photos from these systems can instantly determine if motorists have their hands on a phone while driving, he says.