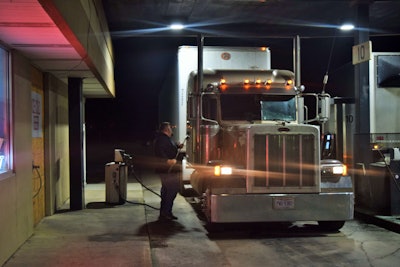 Even though states have clamped down on dine-in restaurant areas to varying degrees in truck stops across the nation, there are multiple other areas that drivers either share or congregate.
Despite the COVID-19 coronavirus outbreak, travel centers and truck stops across the U.S. continue to provide food, fuel and the other amenities to drivers, including showers, but with an increased emphasis on sanitation.
TravelCenters of America said it has increased its cleaning frequency to disinfect and sanitize common touch points for employees and customers and, as of Monday, temporarily suspended its buffets and soup and salad bars. Restaurants, however, remained open as state and local governments allow. The chain also upped the cleaning frequency of its tables, menus, chairs, booths, counters, and all dishes, utensils and cooking surfaces.
In response to COVID-19, Love's Travel Stops & Country Stores developed a task force focused on monitoring the situation and providing education, guidance and resources to store employees "and because of this, we've put protocols in place so that we can maintain regular business when possible and keep our customers safe," the company said.
Love's said it has increased cleaning and disinfecting efforts at its locations and emphasized hand washing for customers and employees by placing additional hand sanitizing stations at its locations.
"Additionally, we've removed self-serve condiment stations and are offering pre-packaged condiments," the company said. "We are also asking customers to use a new, disposable Love's cup to get a drink or refill. Customers can fill their personal cup/mug with a new, disposable Love's cup and My Love Rewards members can still use a refill credit with a new disposable cup."
Pilot Company, parent company of Pilot and Flying J, said it has closed its driver lounges but showers remain open, "and we are cleaning each shower after each use with degreaser, disinfectant and floor cleaner," the company said. "Unless desired, drivers do not need to bring their own towels for a shower. We are cleaning guest towels separately from service towels after each use."
All self-serve food has been closed and "in locations where dining seating is still allowed, we are cleaning food contact surfaces using food grade sanitizer."
Pilot's gaming rooms will be restricted to three participants at a time and the chain implemented a fresh cup policy for all refills as of last Friday. "If a guest would like to use their own mug, we're asking them to use a new cup to transfer their coffee or a fountain drink from the machine into their own mug. They will only be charged the refill price," Pilot said in a statement.
Love's said it is actively working to increase and maintain the distribution of certain high-demand in-store merchandise but because demand has spiked, "we will be limiting quantities as inventory is depleted on certain in-store merchandise. Customers can visit the in-store cashier for requested products and quantity allowances per customer."