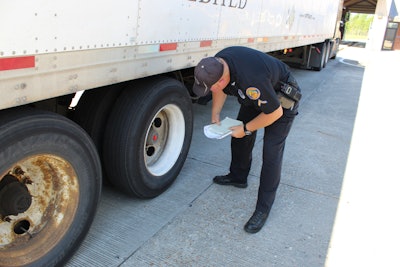 UPDATE: CVSA has postponed Roadcheck. Read more here. 
While the novel coronavirus has brought about event cancellations across the globe, the upcoming Commercial Vehicle Safety Alliance (CVSA) International Roadcheck is not among them – at least not yet.
States in the U.S., however, could opt out individually according to CVSA's director of roadside inspection program Kerri Wirachowsky.
"It has happened before," Wirachowsky said. "It's very rare."

Click here to view our full coverage of the coronavirus' impact on the trucking industry from the leading industry publications of Commercial Carrier Journal, Overdrive, Truckers News and Trucks, Parts, Service.
CVSA's Roadcheck inspection blitz is set for May 5-7. During the 72-hour ramp-up in enforcement, inspectors will include a special focus on "driver requirements" — CDLs, medical cards, seat belts, records of duty status, ELD compliance and more.
The agency is cancelling events it had planned for April which includes the CVSA Workshop in San Antonio, Texas, scheduled for April 19-23; the North American Cargo Securement Harmonization Public Forum, scheduled for April 19, also in San Antonio; and the industry vehicle training course, scheduled for April 6-10 in Kent, Ohio. Registration fees will be refunded.
For events and meetings scheduled for May and beyond, CVSA announced on its website, "that it will closely monitor the coronavirus outbreak, carefully consider all information and updates from reputable sources, and keep the membership updated on the status of all planned future events."
State law enforcement officials in California and Florida said there are no plans at this time to cancel Roadcheck. However, that could change.
Seargeant Tim Goodman at Florida Highway Patrol said that the national and state emergencies currently in place may bring about new assignments.
"For example, when the governor declares an emergency for an approaching hurricane (days before landfall), our job duties change," Goodman said. "Routine patrol is suspended and we operate under a mutual aid plan."
For the time-being, California is following CVSA's lead.
"As of right now, the CHP will participate as usual unless there is a change from CVSA," said CHP spokesperson Janelle Dunham.
In the meantime, carriers are being tasked to help speed up deliveries of vital supplies around the country. The U.S. DOT announced last Friday that it had suspended hours of service regulations for any interstate truck driver or bus driver hauling loads or people related to the response of the COVID-19 coronavirus outbreak.
Today, President Donald Trump evoked the Defense Production Act which empowers the U.S. to ensure that private companies can crank up production and distribution of invaluable emergency supplies equipment. Hospital capacity will also be expanded under the act which will require building material shipments.