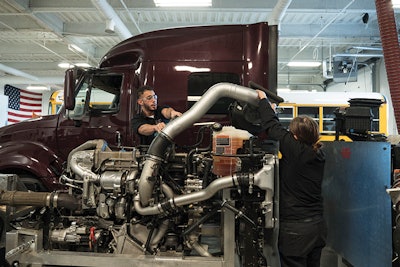 Truck drivers are scrambled like fighter jet pilots nationwide under loosened hours of service restrictions to get consumer goods back on store shelves, but as trucker appreciation campaigns spread across social media, life back at the shop tolls on.
The National Security Council lists vehicle maintenance and mechanic workshops as "essential services," and they are not subject to the sweeping coronavirus closures being mandated coast-to-coast.
Brent Hilton, director of maintenance for Little Rock, Arkansas carrier Maverick Transportation (No. 75 in the CCJ Top 250), said shop work was continuing as usual.
"The freight must move on so we are keeping our shops open," he said.
One thing that's not quite usual is the company's concerted effort to keep technicians out of the truck by having drivers perform their own minor and routine inspections.
"We are making an effort to keep our technicians out of our truck cabs as much as possible and having the drivers perform all light checks and in-cab inspections, brakes … with the technician standing outside the vehicle," he said. "We are simply trying to distance everyone from each other as much as possible."
To date the carrier has been able to get parts as-needed with no issue, Hilton said.
Glen McDonald, director of maintenance for Memphis, Tenn.-based Ozark Motor Lines (No. 137 in the CCJ Top 250), said the company at the corporate-level is are aware of just how critical maintenance services are for its communities and the country at-large. Management is monitoring daily guidance from the CDC and encouraging all employees to be vigilant in practicing good hygiene and social distancing.
"We are making every effort to supply all employees with necessary supplies and keeping them as informed as possible," he said. "As far as shop operations, we still have to touch the trucks."
Ozark has incorporated new cleaning and sanitizing procedures for the equipment and is asking technicians to stay in their bay and to keep their work area clean.

Click here to view our full coverage of the coronavirus' impact on the trucking industry from the leading industry publications of Commercial Carrier Journal, Overdrive, Truckers News and Trucks, Parts, Service.
"We are discussing critical/non-critical job function to see if we can have anyone work from home," he said. "Also looking to see if we can isolate certain functions like our road breakdown department. This is a moving target and our management staff is meeting daily to attempt to stay on top of it."
"I've never walked into a shop and smelled bleach before. Normally, it smells like diesel fuel," added Nick Forte, vice president of maintenance at Hirschbach Motor Lines (No. 65 in the CCJ Top 250). The extra cleaning and disinfecting ongoing at Hirschbach's maintenance facilities is part of a wider contingency plan the 1,900-truck fleet deployed this month to handle the disruption and social distancing requirements brought by the COVID-19 coronavirus outbreak.
"Technicians are like drivers," said Forte. "They're the backbone" of the fleet's operations and, thus, the fleet's taken steps to keep its techs from being exposed to the virus. "By nature" of their work, he said, "technicians are generally socially distanced. One person is working on one truck; they don't gather in groups."
To ensure techs are protected, Forte said the carrier restricted access to its shops and are regularly checking techs for fevers. Likewise, for trucks coming into the shops, the company is using food-grade disinfectant to sanitize cabs, door handles and other high-risk transmission points. Hirschbach is also bringing food in for its technicians so they don't have to leave to find food and potentially "expose themselves outside of our network," said Forte.
Service providers also feeling the pressure
Montgomery, Alabama-based truck dealership Four Star Freightliner is following CDC recommendations for the cleaning of hard surfaces and has installed sanitizer dispensers in all its shops.
"We continuously clean the countertops throughout the day. All incoming trucks are wiped down to protect our technicians in order to maintain a healthy workforce. Those areas include hard surfaces like door handles, steering wheel, seatbelt buckle, windows and other surfaces," said Operations Manager Scott Dixon. "After maintenance or repairs are completed, the trucks are again wiped down before being released back to the customer. We want to make sure the drivers are healthy and able to keep the vital freight moving."
Dixon noted that truck volume has increased nationwide by 18% in response to COVID-19 and he expects to see an increase in service demand at the company's seven locations.
"Our facilities are open for business and our fleet of mobile maintenance vehicles are available 24/7," he said. "We are also prepared to extend regular shop hours if necessary."
"In many of our locations we are extending hours to assist in the delivery of essential goods and services," added Four Star Freightliner Dealer Principal Jerry Kocan. "We feel we are a small cog in the vital wheel that is keeping our nation together by doing everything at our disposal to keep transportation flowing but being mindful and responsible to always keep our employees and customers safe and healthy."
Bob Acker, general manager of Bruckner Truck Sales – Oklahoma City said his dealership is delivering parts throughout the state at no charge and, network-wide, the dealership group has increased the utilization of drop boxes to limit personal contact. The company is also expanding its mobile fleet service coverage area for customers impacted by employee absences and offering labor discounts through the end of the month.
"We consider trucking and transportation vital to overcoming this historic event and we are here to help truckers do what they do," he said.
While business over the past two weeks has been strong as consumer freight continues to prop up the freight market and keep trucks moving, TA Truck Service Senior Vice President Greg Frary said he does expect a downturn once the COVID-19 situation levels out.
"We are dealing with some supplier shutdowns, but at this time our in stock inventory is solid," he said.
Frary added he is seeing an increased demand for mobile maintenance work at distribution centers, adding all truck service centers are open for service "and our dedicated technicians and truck service advisors not only understand, but are proud of, the integral role they play in keeping trucks rolling safely and on time during this unprecedented crisis."
TTN Fleet Solutions, which operates a 24/7/365 technical contact center in Argyle, Texas, says that its breakdown coordinators have been busy assisting fleets during the pandemic. The company is managing driver phone calls for short-staffed maintenance departments and also offers fully outsourced emergency roadside assistance programs "and everything in between," said Jeff Pierre, president and CEO.
Should the need arise, he said that TTN's backup contact center services can operate 100% remotely. Several of TTN's fleet partners that provide maintenance have been consulting with the company to replicate its best practices in redundancies and disaster recovery (DR) planning, he said.
– James Jaillet contributed to this report