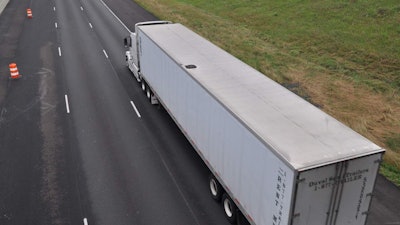 What was already a bleak outlook for truck freight activity has turned a little bleaker.
Forecasting firm FTR on Thursday revised its forecast for truck loadings this year, now forecasting a 9% overall decline in 2020 compared to the year prior, down from its previous forecast of a 4% drop issued in late March.
"All segments we see as being negative for the year," said Avery Vise, FTR's vice president of trucking, in an FTR webinar. Reefer was previously forecasted to tick upward slightly, but the forecast for that segment is now negative, too. Flatbed freight, meanwhile, is in a collapse. Housing starts have plummeted since the onset of the COVID-19 coronavirus pandemic, as has other construction segments. Likewise, manufacturing activity has fallen to an "extreme level to fathom," said Jonathan Starks, FTR's chief intelligence officer.
Orders for trailers and for Class 8 trucks was depressed in March and are expected to remain at near-record lows in April. May's orders, however, will provide a pivotal window into "how deep we're in and how far we need to dig out," said Don Ake, FTR's vice president of commercial vehicles. May truck and trailer orders will be "one of the first signals" as to whether a potential recovery could begin later this year, he said.
FTR does expect economic indicators around truck freight to turn positive later this year, said Starks, though it will still be a "very weak environment" even then for trucking activity, he said.
One potential bright spot is, though the economic trough could be as harsh as the 2008-2009 recession, it could play out in a much shorter time span, said Starks. A recession that unfolded over four to five quarters could play out in just one to two quarters this year. "Moving forward we see positive numbers," said Starks. "We just had such a rapid destruction…we won't make up all those lost results for at least a year and a half."
Insurers offering leniency for small fleets
On CCJ sister site Overdrive, I published a piece last week on how truck insurers are offering small carriers flexibility in terms of pausing policies, offering more time to pay premiums or allowing small fleets the option to remove trucks from their policy if business has fallen off. See that article here.
Of note, that practice applies almost exclusively to small fleets – those with 1o to 15 trucks or fewer.
Fleets with more than 10 or 15 trucks generally are insured differently than smaller carriers. Those policies are set as so-called reportable policies, based on their number of trucks, miles operated and gross revenue reported to insurers on a monthly basis. "So when revenue drops off or you're not running any miles, the premium tracks with that," said Scott Lyden of broker Hadley & Lyden.