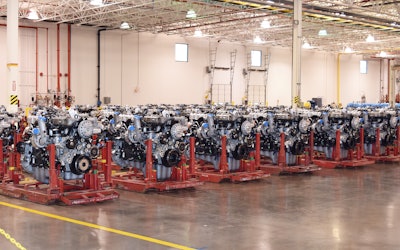 Navistar International Thursday afternoon joined its truck OEM peers in further pushing out the re-start of truck production amid the lowest truck order volume in a decade.
The company's truck assembly plant in Springfield, Ohio temporarily ceased production on Monday, March 23 due to disruptions in the supply chain resulting from the COVID-19 coronavirus pandemic. Navistar initially planned to restart operations Monday but "with the supply chain still interrupted, this stoppage is being extended," the company announced via release. Production is now expected to resume Monday, April 27.
Additionally, Navistar is broadening a temporary suspension in manufacturing operations to its engine assembly plant in Huntsville, Alabama, and truck assembly plant in Escobedo, Mexico. Production should resume at both locations Monday, April 13.
The IC Bus Manufacturing Plant in Tulsa, Oklahoma, and all Navistar service facilities and parts distribution centers are currently continuing regular operations.

Click here to view our full coverage of the coronavirus' impact on the trucking industry from the leading industry publications of Commercial Carrier Journal, Overdrive, Truckers News and Trucks, Parts, Service.
Paccar earlier this week extended its worldwide plant closings to April 20. Volvo Group's Hagerstown powertrain facility, which was originally set to re-open this past Monday, has suspended production until at least Friday, April 10. Mack's Lehigh Valley Operations has also suspended production through April 17 and Volvo Trucks' New River Valley manufacturing facility is currently running "a very limited production schedule," the company said.
Daimler Trucks North America didn't formally close its facilities, but scaled down and limited operations at its Mt. Holly Truck Plant in North Carolina; Cleveland Truck Plant in North Carolina; Gaffney Truck Plant in South Carolina; Portland Truck Plant in Oregon; and Saltillo Truck Plant and Santiago Truck Plant in Mexico. The company on Thursday added a week to its plans for a return to production, now targeting April 13 in the U.S. and April 20 in Mexico.
Truck orders drop as COVID-19 crisis drags on
With production for part of last month scaled back drastically, Class 8 truck orders for March sank to just 7,400 units – a 48% slide month-over-month and a 52% drop compared to last year, according to FTR.
The March order total hit its lowest point since 2010 as uncertainty over the duration of the COVID-19 crisis limited orders to only those that fill immediate needs.
"The only good news here is that the number was still positive despite the high number of expected cancellations," said Don Ake, FRT vice president of commercial vehicles. Nearly 20% of respondents to a survey conducted by CCJ last week said they had already cancelled orders for new trucks (12%) and/or trailers (7%).
"The gross order number is probably higher than 10,000 trucks, which means at least some fleets need more vehicles. A few carriers are doing well in the short-term, depending on the region and the type of freight being hauled," Ake added.
Medium duty sales faired a little better with Class 5-7 net orders reaching 14,700 units – down 36% from February and 31% from a year-ago, according to ACT Research.
"Although not official yet, we believe that the U.S. economy entered a recessionary phase starting in March, and with much still unknown about the virus' effect and the path that recovery could take, assessments remain fluid," said Kenny Vieth, ACT Research President and Senior Analyst. "ACT continues to evaluate our baseline scenarios for North America, but our current modeling indicates significant economic weakness though Q2 and into Q3, with [commercial vehicle] market demand following."
JPMorgan on Thursday lowered its Class 8 truck build forecast to 162,000 this year, a drop of 53% year-over-year, and Ake said he expects orders to remain near 10,000 unit mark for "a few months." Class 8 orders have totaled 170,000 units over the past 12 months.
"It is expected that most fleets will pause their replacement cycles due to the crisis," Ake said. "Large fleets that have immediate needs and the financial resources will continue to place modest orders. Additionally, smaller fleets may tap into the used truck market for their short-term needs to reduce the financial risk. The second quarter will be tough on the Class 8 market, and the third quarter is still highly uncertain."