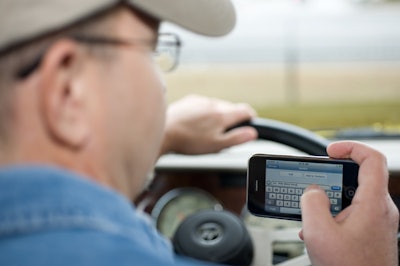 Increasingly, driving technology is powered by artificial intelligence (AI), and commercial drivers see it as beneficial but also concerning, according to a new online survey of commercial drivers conducted by Harris Interactive and commissioned by Netradyne.
The survey found that commercial drivers feel safe but acknowledge they could be safer, particularly if they can successfully eliminate distractions. According to the National Safety Council, more than 700 people are injured in distracted driving crashes every day.
Eighty one percent of the drivers surveyed are concerned about distractions being on the rise, and their top two riskiest driving behaviors are:
Social media and surfing the net: 71% of drivers say they've accessed social media and the net while driving and found it distracting.
Video and facetime chatting: 68% found it distracting.
Among the drivers who said they've been in a distracted driving incident, 22% said they have been injured.
The survey also asked drivers how they are negating distracted driving:
68% regularly allow extra time for their journey to help negate distracted driving.
59% regularly set their GPS before starting the engine and 55% regularly prepare all of their music for the entire trip.
The top technologies drivers say help them prevent distraction are hands-free phones (43 percent), a camera to view the outside of the vehicle (36 percent) and a GPS device (29 percent), as well as other assistance such as lane departure warnings, voice recognition, and automatic braking.
Netradyne said that its Driveri system is designed to help address driver awareness of risky driving behaviors with cameras and AI-powered edge computing that give them "star" reports to understand daily behaviors.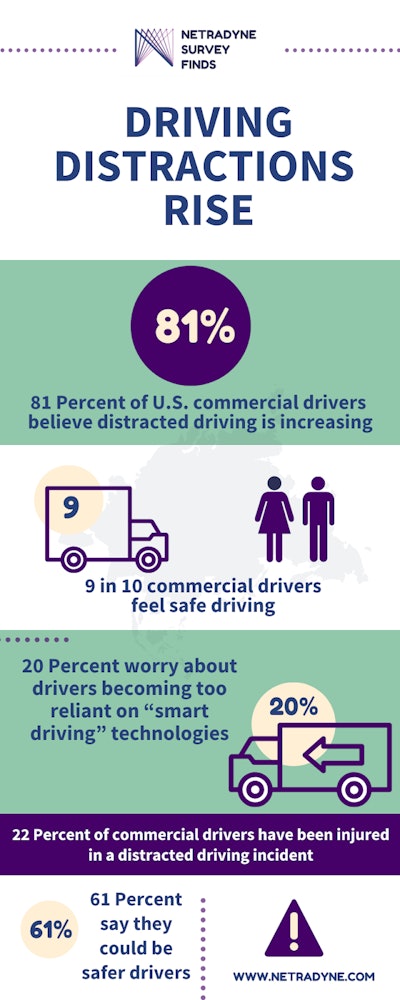 On average, data collected by Netradyne show that commercial drivers drive 7.4 hours per day, and their top five distractions are drinking liquids, events outside the vehicle, looking at a GPS device, adjusting the in-vehicle audio and fiddling with vehicle controls.
"Because of the distractions on the road, and the long hours, I believe that every vehicle, particularly those in commercial fleets, should have a camera," said Adam Kahn, president of fleet business at Netradyne. "Technology is proven to have a huge impact on not only making the roads safer for everyone and reducing distracted driving with in-the-moment feedback, but fleets can save money by avoiding the incidents that the human brain can't always anticipate."
The survey also revealed commercial driver attitudes toward AI:
AI, which can provide ongoing, constructive feedback (such as Netradyne's GreenZone) appeals to 72% of drivers who say they are open to feedback at least once a week.
73% are interested in receiving feedback once a week or more, and are interested to hear what they do well more than what they need to improve (40%).
Regarding feedback, 44% prefer a mix of numbers-based feedback and verbal/written coaching, as opposed to a numbers-based feedback report (19%).
Over 50% feel that technology has positively impacted driver safety by helping them stay focused (23%) and make more accurate decisions (21%).
In terms of priority, 69% are interested in AI technology that will help them monitor blind spots; 68% are interested in information on vehicle maintenance issues; and 63% want technology to feed them information about the road.
The Netradyne survey was conducted online within the United States by Harris Interactive from February 25 to March 16, 2020 among 350 commercial drivers.