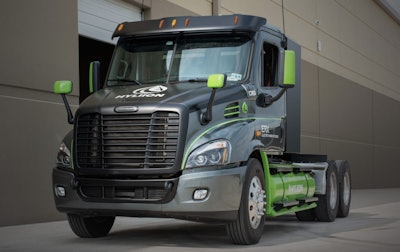 Hyliion has debuted an electric powertrain in a Class 8 tractor that the company says features a range of more than 1,300 miles and doesn't require charging infrastructure thanks to an onboard generator.
The Texas-based company is powering the electric motors of its Hypertruck Electric Range Extender (ERX) with a battery pack charged by an onboard generator that's powered by either natural gas or carbon-cutting renewable natural gas (RNG), both of which already have a well-developed infrastructure network.
Hyliion is accepting reservations for $5,000 each, the proceeds of which help fund the development of the powertrain which is currently being tested in a Freightliner Cascadia day cab. A video below shows the truck doing a burnout.
The company also plans to leverage its long-standing partnership with supplier Dana Inc. The Hypertruck ERX will feature Dana's electric motor, inverter and axle technologies, and Dana plans to provide its manufacturing capabilities to support Hyliion in reaching series production of its powertrain systems. Initial Hypertruck ERX fleet demonstration vehicles have been allocated to customers for delivery in 2021, with series shipments scheduled for 2022.
While battery electric vehicle manufacturers often boast of low energy costs in terms of refueling, Hyliion reports that its powertrain "produces electricity at roughly 30% less than the average grid cost, which yields a seven-year cost-of-ownership unmatched by any diesel, battery-electric (BEV) or hydrogen fuel-cell (FCEV) Class 8 truck under development."
The generator will produce electricity to provide accessory power to the cab, to charge the batteries and to provide energy direct to the drive motor when appropriate, the company said. No conventional transmission or mechanical driveshaft is connected to the generator.
Hyliion Founder and CEO Thomas Healy said government incentives, coupled with the truck's lower fuel costs, will help fleets step up to its estimated $220,000 price tag. Hyliion, which has been in talks with several OEMs, will focus on supplying truck manufacturers with high volume sleeper and day cab models.
"While it is more expensive than a conventional diesel truck, since we're using a much less expensive fuel source, it drives a pretty attractive pay back," Healy explained. "Over a seven-year period, it's about a 35% reduction in operating costs."
Lower maintenance comes courtesy of the truck's electric powertrain, which includes regenerative braking.
"It will definitely reduce the brake wear and tear," Healy said. "Overall, we expect it to have less maintenance than a diesel. That's just one of the big benefits of an electric powertrain. There are less moving parts. You don't have a transmission anymore. There are some things that you get to eliminate from the vehicle."
With the push for zero-emission trucking growing, particularly with California's recent announcement requiring phased-in sales of zero-emission commercial trucks and vans, Hyliion believes it has plenty to offer to fleets that are up against the California Air Resources Board and other agencies in other states that often embrace strict emissions regulations.
When fueled with RNG, Hypertruck's carbon intensity score actually runs below zero. The California Air Resources Board reported in 2018 that RNG's carbon intensity score was as low as -303.30 (based on an adjusted estimated energy efficiency ratio) while electric scored between +25 and +38.95. The reason? RNG is produced by capturing methane, a gas that CARB considers to be much more hazardous to the ozone layer than other gases such as CO2 and NOx.
RNG production captures methane that otherwise would have entered the atmosphere where the U.S. Environmental Protection Agency says the gas is 21 times more harmful than carbon dioxide. Depending on the location, such as areas where air pollution is a concern, government incentives can reduce the cost of RNG below that of standard natural gas.
"There are a magnitude of different incentive opportunities," Healy explained. "Ultimately, what it's doing is driving the costs of RNG down. Actually, I was just on a call with a fleet that told us, as weird as this sounds, that they can actually source RNG for less money than they can actually source CNG. That has to go back to those emissions credits and savings and government incentives, which is kind of remarkable when you think about it. It's like, 'I can get a cleaner fuel. I can get it for less money.' This is the perfect solution for fleets."
Healy said Hyliion is open to using other generator engines powered by other fuels such as diesel and gasoline. They're currently developing a fuel cell generator with Faurecia and Michelin-owned Symbio based in France.
Though he would not reveal the name of the manufacturer behind the natural gas engine currently powering the Hypertruck ERX prototype, Healy did say "We're running about a 7.0-liter type size engine. That's what we found is able to produce enough electricity to keep the batteries topped off and charged as you're driving."
Regardless of the generator used, "we've got more horsepower and torque than a conventional diesel truck," Healy contends. "It's really enjoyable to drive."
Hypertruck will come with a charge port that allows the Toshiba lithium-titanate battery pack to be fast-charged in around 10 minutes "because we know there are some applications where recharging off the grid does make a lot of sense," Healy said. Thanks to the truck's onboard generator, battery size can be trimmed down to roughly one-tenth the size of a pack required for an electric truck that is powered exclusively by batteries.
"Our powertrain actually allows you to increase the payload capacity of the truck by a couple thousand pounds and you don't have that range issue," Healy said. "You're bringing the fuel with you to produce the electricity as opposed to trying to fill the batteries up and drive all day."
Agility Logistics has confirmed a pre-order of up to 1,000 trucks and has agreed to invest in a private offering of securities to be issued by Tortoise Acquisition Corp. in connection with Hyliion's recently announced reverse merger with Tortoise.
Though RNG is considered a carbon-negative fuel, it still produces emissions during combustion. In cities where zero emissions may be required, Hypertruck can run solely on battery power for up to 25 miles or more, depending on battery pack selection. An automated geo-zoning feature can switch the truck over to operate on battery only when driving in zero-emission zones.
Refueling the truck takes about 10 minutes or less, the company said.