Before the coronavirus pandemic, few could have imagined that paper shipping documents would become a health hazard. They were merely an inconvenience for drivers and office clerks to handle as part of the payroll and billing process.
When social distancing became the norm, new technology quickly emerged to digitally exchange bills of lading (BOLs) and capture signatures for proof of delivery (POD) documents to keep drivers safe and for office staff working remotely.
Contactless transactions
Speeding the flow of POD documents had already been simplified with mobile apps that drivers use to capture images remotely. What changed during the COVID-19 pandemic is that more shippers no longer print BOLs but instead send digital documents to carriers before drivers arrive to pick up loads.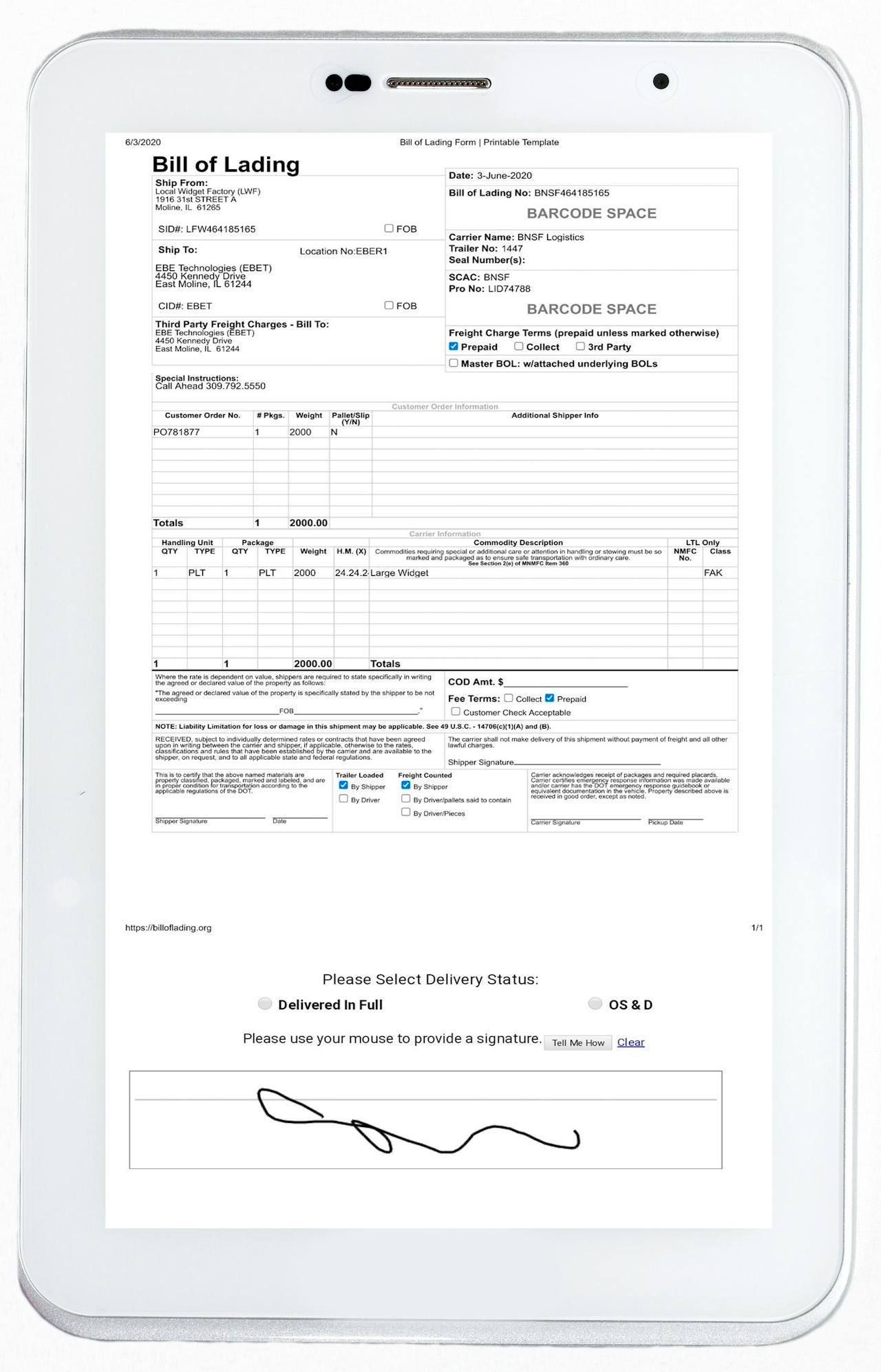 Carriers receive the electronic BOLs via email — typically as PDF attachments — or as direct feeds into their transportation management software using electronic data interchange (EDI), said Larry Kerr, president of EBE Technologies, which provides workflow-based systems for transportation companies.
When picking up a load, shippers that use electronic BOLs may still give drivers a paper copy to take with them during transit.
EBE Technologies has a new eBOL module for carriers to use with its SHIPS document management and workflow automation platform. When carriers receive an electronic BOL from shippers, the software sends it to drivers before they make a pickup.
The eBOL goes to EBE's Connect Mobile Capture app, or to any third-party app that drivers and carriers use, he said.
When drivers arrive for a delivery the apps give drivers the option to email the eBOL to the consignee to sign electronically. EBE uses an electronic signature application from SignEasy, which gives the signee the option to sign the POD using a mouse or finger.
The eBOL module can automatically email the document to the consignee from the integration EBE has with the fleet's dispatch software. The integration validates the delivery has taken place using location data from a telematics platform or "stop code" from the dispatch system, Kerr said.
The signee gets a confirmation email as soon as the document is signed and sent to the dispatch system, he said. When the eBOL is in transit to the office, the SHIPs platform can use optical character recognition to extract information to automate data entry and validate information such as addresses, BOL numbers or notations for over, short or damaged freight.
Expanding the footprint
Transflo, formerly Pegasus TransTech, has always had products and services used by carriers, freight brokers and drivers to speed the flow of proof-of-delivery documents. During the COVID-19 crisis, leaders decided to expand to help shippers and consignees go paperless, explained Doug Schrier, vice president of product and innovation.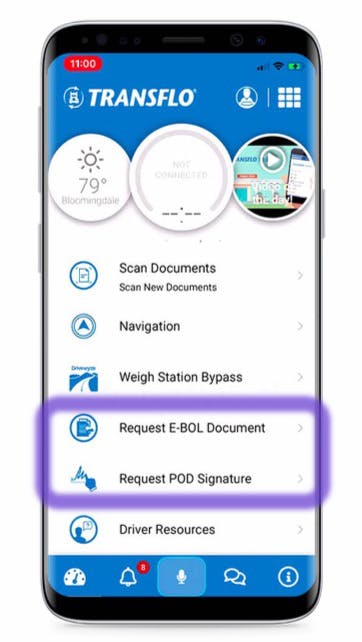 Creating a digital process for all shippers and receivers would be a complex undertaking since each company uses different software systems and has unique processes for loading and unloading.
To solve the challenge, Transflo started with a large footprint, he said, with more than one million drivers using its Transflo Mobile+ app and truck stop scanning network at more than 3,000 locations. Rather than develop a standard process for shippers and receivers, Transflo gathers their individual requirements to create an integrated eBOL and ePOD process.
Georgia-Pacific, one of the nation's largest shippers, is one of the early adopters of the integrated eBOL and ePOD systems from Transflo.
When a driver breaks a geofence at a location, the app walks the driver through the unique workflow of the shipper or receiver to check in and receive or send an electronic BOL for signature. The email or phone number associated with the account is preloaded.
"Nothing has to happen beyond the normal workflow of marking something completed and shipped," Schrier said.
Transflo has another option for shippers or receivers that do not have an integrated process. A shipper can upload a PDF document or send a BOL to Transflo through EDI, he said. When the document is received, Transflo sends the eBOL to the driver in Transflo Mobile+ with a notification.
When delivering a load, the driver can ask for an email or phone number to send an eBOL for signature.
Should a detention event occur, motor carriers can use the eBOL or ePOD for documentation. The driver and receiver can write annotations in a field within the document to record start and stop times, which the receiver can sign off on, he said.
Before carriers receive a completed ePOD, Transflo can use OCR to validate document types and extract data. If exceptions occur, Transflo has an operations center in Louisville that will manually validate or fix data and feed information directly into its customers' systems, Schrier said.
Transflo is also working with shippers to install kiosks at their facilities to maintain social distancing if drivers do not already have Transflo Mobile+ app to complete the same eBOL and ePOD process.
Another recent development is the Consumer Brands Association starting a task force to develop a protocol for contactless pickup and delivery. The task force brings together 23 consumer packaged good companies with supply chain partners Accenture, Coyote Logistics and Vector, a transportation digitization and workflow provider and retailers.
The initial focus of the task force is to develop uniform standards for eBOLs.