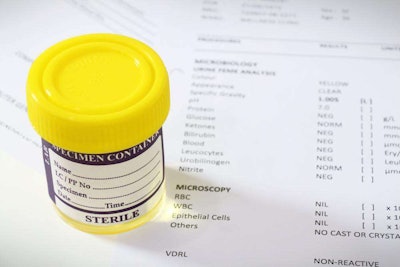 For carriers having trouble keeping up with truck driver drug screenings amid the COVID-19 pandemic, the Federal Motor Carrier Safety Administration Tuesday said it will attempt to use discretion in enforcing the 2020 requirement that fleets issue random drug tests for 50% of their drivers.
The move, the latest from the agency in granting some leniency to carriers regarding driver drug testing due to the COVID-19 outbreak, highlights an ongoing challenge facing fleets on the drug testing front: Because of the global health and economic crises that have stymied many pre-employment drug tests and impeded random testing, drug screening providers are struggling to stay afloat financially. That has crimped carriers' ability to test drivers, whether for pre-employment, random or post-accident, and their ability to maintain compliance with drug testing regulations.
"If you're a nationwide fleet, there's no way you're going to know what facilities in what states are going to be open or operating at limited hours," said Andrew Easler, founder of DrugTestingCourses.com, which works with dozens of fleets on driver drug testing compliance. "A lot of these [drug and alcohol testing] business are going broke right now."
DOT-required drug tests make up the bulk of business for many of these companies, he said. With driver hiring stalled in March, April and into May, "that's a big chunk of business" to have lost, Easler said. Even if a facility is open, it's tough to know whether they're adhering to best practices to prevent virus transmission, he added, and thus not putting drivers at potential risk. Easler recommends that, if possible, fleets consider steps to move driver drug testing in-house, instead of outsourcing.
"The most important thing for randoms is scheduling ahead of time," said Luke Kibby, director of marketing at Compliance Navigation Specialists. Some collection sites have stopped accepting walk-ins all together, he said, whether for random testing or pre-employment screenings. CNS' network of around 5,000 collection sites hasn't seen any closures, though Kibby said he's heard it has been an issue industry-wide.
In regards to FMCSA's leniency in enforcement, carriers should ensure they document any issues with their ability to comply with random drug screenings, Kibby said. "FMCSA is providing that flexibility if you can prove you're unable to meet [the random testing requirement]," he said. "If you can show documentation that collection sites aren't open and you've tried finding other sites and they're not open, FMCSA says they will show flexibility to not enforce violations regarding drug testing."
That leniency will last through the end of the year, and the agency is considering extending it into 2021, said Kibby.
In addition to the waiver announced Tuesday, FMCSA last month said it will allow carriers to skip pre-employment drug tests for drivers returning to work after being furloughed or laid off, so long as they were in a drug testing program within the prior 90 days. That waiver's good through September.
Though the series of waivers have provided limited flexibility options for fleets, "you still have to follow the regulations," said Tia Ghattas, co-chair of the transportation and logistics group at the law firm of Cozen O'Connor, out of the firm's Chicago office. While fleets certainly can take advantage of the waivers granted by FMCSA, "they're not a free pass," she added.
FMCSA noted the same in its Tuesday waiver. "This notice is not intended, and should not be perceived, as suspending the current random testing requirements," it states.